The Houston Museum of Natural Science was founded in 1909 – meaning that the curators of the Houston Museum of Natural Science have been collecting and preserving natural and cultural treasures for a hundred years now. For this yearlong series, our current curators have chosen one hundred exceptional objects from the Museum's immense storehouse of specimens and artifacts—one for each year of our history. Check back here frequently to learn more about this diverse selection of behind-the-scenes curiosities—we will post the image and description of a new object every few days.
This description is from David Temple, the museum's curator of paleontology. He's chosen a selection of objects that represent the most fascinating fossils in the Museum's collections, that we'll be sharing here – and at 100.hmns.org/ – throughout the year.
Crinoid – Starfish Symbiosis
Missippian
Fossilization is an endless repetitive morbid grind of death, decay, and burial.  The process can occur piecemeal – remains accumulating slowly, being buried, uncovered, and buried again, mixing the context of the animals that lived and died together – before becoming incorporated into a more permanent rock strata. Occasionally, events such as storms will deposit sediments and "seal" an ecosystem.  
The Museum's collection of crinoids and associated fossils from Crawfordsville, Indiana fossilized in this manner. This rapid burial of a living ecosystem preserved direct association of different species living together, preserving the very last "day in the life" of these animals.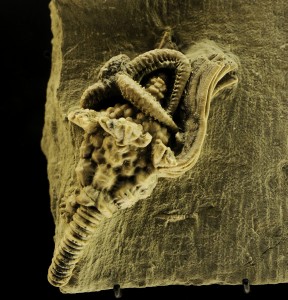 This crinoid and starfish (HMNS 458) were entombed alive in shifting sediments around 340 million years ago. The two animals together tell an intimate story about their daily lives. Initially this "snapshot" window into the lives of these echinoderms was viewed as a predator attacking prey.   
 
However, as more of these fossils have been collected, the interaction between the species has shifted to a more subtle ecological interpretation. This species of starfish, Onychaster flexillis, is routinely found attached to this crinoid, Actinocrites gibsoni – or other species of crinoid that have extended anal tubes. In some examples, the starfish mouthparts are visibly attached to the tube. The relationship is not predatory, but symbiotic; the starfish is feeding on the excrement of the crinoid.
Wander among prehistoric beasts in the Paleontology Hall, a permanent exhibition at the Houston Museum of Natural Science.
You can see more images of this fascinating artifact – as well as the others we've posted so far this year – in the 100 Objects section at 100.hmns.org.