The Houston Museum of Natural Science was founded in 1909 – meaning that the curators of the Houston Museum of Natural Science have been collecting and preserving natural and cultural treasures for a hundred years now. For this yearlong series, our current curators have chosen one hundred exceptional objects from the Museum's immense storehouse of specimens and artifacts—one for each year of our history. Check back here frequently to learn more about this diverse selection of behind-the-scenes curiosities—we will post the image and description of a new object every few days.

This description is from Dr. Bob Bakker, the museum's curator of paleontology. He's chosen a selection of objects that represent the most fascinating fossils in the Museum's collections, that we'll be sharing here – and at 100.hmns.org/ – throughout the year.
Diplodocus
Jurassic Period
140 million years old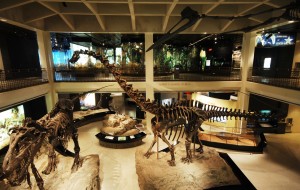 She's not the weightiest herbivore in her Jurassic world. Her close kin Apatosaurus would be twice as heavy. Her neighbor Brachiosaurus would be four times her bulk. But no other dinosaur can exceed our Diplodocus in the combination of length and delicacy of architecture.
The animal is labeled a "she" from an old tradition but, in fact, we don't know the gender, yet.
Diplodocus is one of a trio of long-necked giants who together make up 90% or more of the large dinosaurs in the American West during the final stages of the Period. Usually, Camarasaurus is commonest. Its thin neck, of moderate length, boxy head and long front legs contrast with the attenuated neck, pointed muzzle and short forelimbs of Diplodocus and the Apatosaurs. Apatosaurus itself matches the Diplodocus proportions closely except that every bone is greater in girth.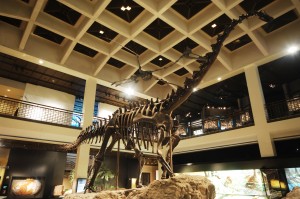 The trio was unearthed in the two decades of the Great Jurassic Gold Rush, when eastern museums revealed the riches of the Jurassic fauna in Wyoming and Colorado. The first good Camarasaur skeleton was dug in 1877; the first good Apatosaur in 1879, the first good Diplodocus in 1896.
The HMNS Diplodocus was 78 feet long, 12 feet high at the hips, and probably weighed 10-15 tons.
Wander among prehistoric beasts in the Paleontology Hall, a permanent exhibition at the Houston Museum of Natural Science.
You can see more images of this fascinating artifact – as well as the others we've posted so far this year – in the 100 Objects section at 100.hmns.org.