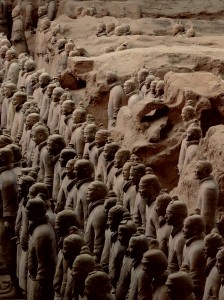 Although different lists vary slightly, there are seven wonders of the ancient world. The Great Pyramids at Giza, the Hanging Gardens of Babylon, the Statue of Zeus at Olympia, the Temple of Artemis at Ephesus, the Mausoleum of Maussollos at Halicarnassus, the Colossus of Rhodes, and the Lighthouse of Alexandria.
Discovered in 1974, the Terra Cotta Soldiers of Xi'an have been dubbed the Eighth – and with good reason. They're absolutely stunning to behold in person. 
All of the soldiers that make up this new Wonder are located between 6,000 and 8,000 thousand miles away from Houston (the statue of Zeus at Olympia is the closest, at approximately 6,260 miles away), and are fairly inaccessible if you want to see something fantastic by the end of the week.
However, the Houston Museum of Natural Science has brought the Eighth Wonder of the World to your own backyard. Come see the largest group of Terra Cotta artifacts to ever leave China in our exhibit, the Terra Cotta Warriors: Guardians of China's First Emperor, on display until October 18, 2009.
And, this Thursday night, we offer an exclusive VIP event. View the exhibit at your own pace, question our very own Dirk Van Tuerenhout and enjoy cultural performances such as dragon dancers. Dine on Chinese appetizers and enjoy a cash bar as you peruse the Eigth Wonder of the World in style.
Terra Cotta VIP Event – Thursday, August 13, 2009
6 pm – 9 pm Don't miss out – get your tickets now!