It is summer time and with that comes vacation. Given the current economic situation, most people stay close to home. Traveling to far away places might not be part of our plans. However, that should not preclude us from catching up on what has been happening on the other side of the world: Mongolia.
A recent news release on the BBC website revealed that several crates containing "amazing Buddhist art objects" had been unearthed in the Gobi desert. A total of 64 crates were buried in the 1930s by a Buddhist monk, in an attempt to save historical artifacts during a period of immense upheaval. The monk passed his secret along to his grandson, who dug up some of the boxes in the 1990s and opened a museum. Two additional boxes were uncovered recently, and an estimated 20 boxes still remain buried in the desert.
The Gobi desert is currently also the place where a group of Australians are looking for the Mongolian "death worm"  a creature said to be up to 5 feet long, and able to spit acid. It remains to be seen if this worm actually exists, as it stands, it is part of what we know as cryptozoology.
What is much less controversial and much easier to see is a huge equestrian statue of Genghis Khan located about an hour's drive outside the Mongolian capital, Ulan Baator. This Texas-size statue, weighing in at 250 tons of stainless steel and standing 131 feet tall is a very visible expression of the renewed interest in Mongolia's past. A smaller, though still imposing, statue of a seated Genghis Khan can be seen by those who visit the Parliament Building in Ulan Baator.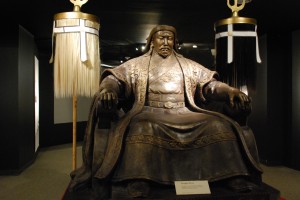 While the equestrian statue is too large to ever fit in a museum hall, there is currently a copy of the seated Genghis Khan on display at the Houston Museum of Natural Science. The exhibit, entitled "Genghis Khan," is on display until September 7, 2009. It relates the story of the meteoric rise of the Mongolian Empire. Visitors will learn how, over the time span of three generations, Mongolian armies overran huge parts of Asia, the Near East and Europe. Objects from museums in Mongolia as well as the Hermitage in St. Petersburg illustrate the story. Maps and interactive computers complete the picture. (Those interested in the death worm will have to await the results of the Aussie expedition.)