The Houston Museum of Natural Science was founded in 1909 – meaning that the curators of the Houston Museum of Natural Science have been collecting and preserving natural and cultural treasures for a hundred years now. For this yearlong series, our current curators have chosen one hundred exceptional objects from the Museum's immense storehouse of specimens and artifacts—one for each year of our history. Check back here frequently to learn more about this diverse selection of behind-the-scenes curiosities—we will post the image and description of a new object every few days.
This description is from Lisa Rebori, the Museum's Vice President of Collections. She's chosen a selection of objects that represent our Museum's history, and our collections of historical technologies, that we'll be sharing here – and at 100.hmns.org– throughout the year.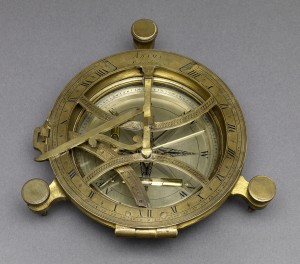 If you lived in the 1800s, how would you be able to tell what time it was?  Either you had to walk to where you could see the local clock tower or own a watch – which were usually delicate, expensive, and somewhat large.  The solution?  Own a sundial.  Sundials use the position of the sun relative to the instrument to determine the time.
The sundial featured here is a horizontal sundial as well as a compass.  First you should open the lid to locate true north.  Then you close the lid, place the instrument on a flat surface and make sure it is level by using the knobs to adjust it.  Finally raise the sundial arm and use the shadow of the sun on the base to determine the hour.
If you want to see a real horizontal sundial in action you should come up to the Houston Museum of Natural Science!  We have a HUGE one right outside our front doors!
You can see more images of this fascinating artifact – as well as the others we've posted so far this year – in the 100 Objects section at 100.hmns.org