The Houston Museum of Natural Science was founded in 1909 – meaning that the curators of the Houston Museum of Natural Science have been collecting and preserving natural and cultural treasures for a hundred years now. For this yearlong series, our current curators have chosen one hundred exceptional objects from the Museum's immense storehouse of specimens and artifacts—one for each year of our history. Check back here frequently to learn more about this diverse selection of behind-the-scenes curiosities—we will post the image and description of a new object every few days.
This description is from Dan, the museum's curator of vertebrate zoology. He's chosen a selection of objects that represent the most fascinating animals in the Museum's collections, that we'll be sharing here – and at 100.hmns.org– throughout the year.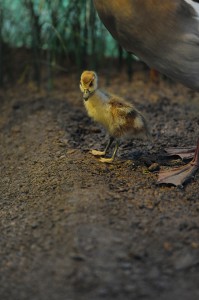 This is the oldest mount in the Vertebrate Zoology Collection that is currently on display.  It was part of the large Westheimer donation, purchased from H. P. Attwater in the early 1920's.  The specimen is currently featured in Phase II of the Frensley-Graham Hall of African Wildlife. 
Phase II depicts many of the species in family or social groups, including mother-offspring associations such as the Egyptian Geese (Alopochen aegyptiacus) on display.
Range across seven biomes to explore the entire continent of Africa in the Evelyn and Herbert Frensley Hall of African Wildlife and Graham Family Presentation of Ecology and Conservation Biomes, a permanent exhibition at the Houston Museum of Natural Science.
You can see more images of this fascinating exhibition – as well as the other objects we've posted so far this year – in the 100 Objects section at 100.hmns.org