The Houston Museum of Natural Science was founded in 1909 – meaning that the curators of the Houston Museum of Natural Science have been collecting and preserving natural and cultural treasures for a hundred years now. For this yearlong series, our current curators have chosen one hundred exceptional objects from the Museum's immense storehouse of specimens and artifacts—one for each year of our history. Check back here frequently to learn more about this diverse selection of behind-the-scenes curiosities—we will post the image and description of a new object every few days.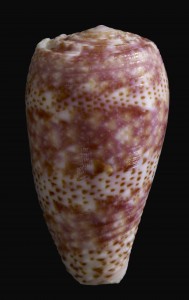 This description is from Tina, the museum's associate curator of malacology. She has chosen a selection of objects that represent the most fascinating shells and animals in the Museum's collections, that we'll be sharing here – and at 100.hmns.org– throughout the year.
Broderip, 1836
Commonly called the "Rhododendron Cone" this rare species is easily distinguishable from any other species of Conidae.  They live on the seaward sides of coral reefs and are difficult to find in their habitats because of the rough ocean currents outside the reefs.  Occasionally they can be found inside the protective coral reefs in lagoons.  Possibly these have been washed over the reef by strong storms.  French Polynesia is the eastern border of its range which extends westward to the Coral Sea area.
You can see more images of this fascinating artifact – as well as the others we've posted so far this year – in the 100 Objects section at 100.hmns.org