Many people come to our Museum for a visit.  In fact, last year, we had over 2.5 million visits. But have you ever had a museum come to you for a visit?  Well, the Houston Museum of Natural Science can do that, too!  The Museum has several different outreach programs where we bring specimens to students for some hands-on learning. 
Recently the Museum brought its El Paso Corporation Wildlife on Wheels to Kipp (Knowledge is Power Program) Dream Elementary School. In this picture, you can see some of the specimens used during our Reptiles and Amphibians topic. Snake skin, tortoise shells, fossil casts (center), coprolites and even caiman skin are valuable teaching tools and definitely more portable and safer than a large, live caiman!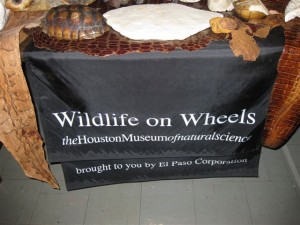 In this picture below you can see some of the cutest kindergartners touching a Surinam Toad. They were very attentive and while some were nervous, most were very excited. They were also practicing safe touching technique: two finger touch, sitting "criss-cross-applesauce", and as I learned that day, "with their spoons in their bowl" (meaning hands in their lap). The toad was pretty good too.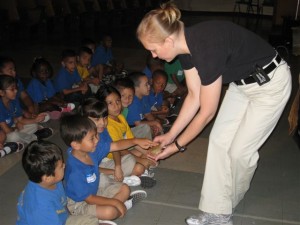 Here you see a Savannah Monitor behaving himself so that the children could touch him. If you have ever worked with a monitor, that is saying something! No hesitation here, these kindergartners were ready to touch the lizard even though he was big. Behind me in the photo is a good view of the table setup for that day. All of the specimens are something the children can touch like the crocodile skull, unless of course it is fragile enough to be in a jar or behind glass like the snake skeleton in the back.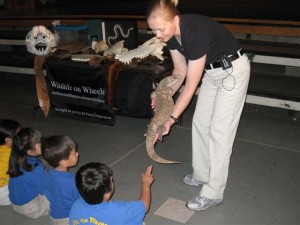 At the end of the presentation, the children have the opportunity to come past the table and touch the specimen I had been using as part of the discussion. Here you can see the interest on their faces as they touch real crocodile teeth (without the risk of a bite!), a tortoise shell, and with only a little hesitation, fossilized dinosaur dung! This is often where I wonder what they are thinking: should I really touch poop, or would my head fit inside the croc's mouth?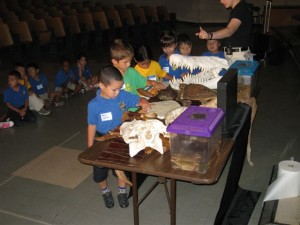 We don't know who had more fun during El Paso Corporation's Wildlife on Wheels…the students or the animals!  For more information on the Museum's Outreach Programs, visit http://www.hmns.org/education/teachers/outreach_programs.asp.