We recently recieved a question through our blog from Savannah, who was wondering if a rock she had found might have once been used as a knapper's hammer. It seemed to fit perfectly in the hand and had a great place for the thumb to grip it. We passed her question along to Dirk to see what he thought.
"I found a stone in my subdevelopment. On examination, is seems like it is very well fitted to my grandfather's right hand, with smooth places where the fingers, thumb and heal of hand fit. It seems much like a knapper's hammer. I was wondering if it looks like hammers you have seen before."
– Savannah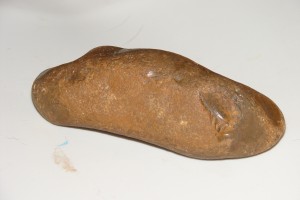 Good question. My first reaction was that there would need to be some evidence of this stone being used as a hammer. I would expect to see flake scars, places where the hammer stone suffered damage from the hammering and where pieces split off. Something like this: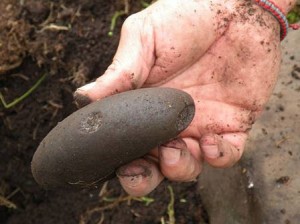 Here you can see where the hammer hit the other surface and suffered damage as a result.
However, I also came across the following image where there did not appear to be any damage, or where it was much harder to prove that there was man-made damage: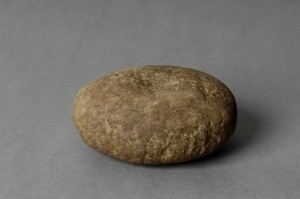 The stone we see in Savannah's photo may have been used as a hammer stone. However, the argument that it had nice polished surfaces in the right place for people to hold it is not one that I would use in favor of this identification, though. That reflects our thinking where our tools have that kind of feature.
Bottom line is: it could be, but we would need a microscope analysis of the surface to see if there is any evidence of use wear.
See: http://www.hf.uio.no/iakh/forskning/sarc/iakh/lithic/bar/bar1.html#anchor253048