Summer is a time for exploring and growing, and there is no better place for learning and fun than at HMNS Xplorations Summer Camps! Campers can take week-long classes in archaeology, creepy crawlies, the science behind Harry Potter, dinosaurs, robots, crime scene investigation and much more.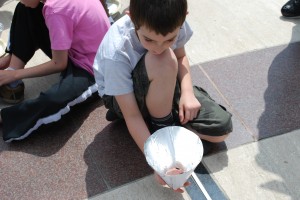 A handcrafted object to harness the suns energy
and heat up food
Interested in nature? Do you love the outdoors? Then learn how to thrive in the wild. In our survivor camp, kids learn how to survive in harsh environments such as the desert or in the tropical forests. Campers discover how to find water and determine their location from the stars. They build their own water filters and make their own insect repellent.
The kids discuss which animals are dangerous and how to best avoid them. They make their own survival kits. They also learn how to say S.O.S in Morse code.
 Campers practice tieing slipknots
What survival class would be complete without learning how to make a compass or the best knots  to tie? Ever wondered what was the best way to build a fire? Wonder no more. Sign up for Survivor class, just one of our many summer camps.
Just because school is out for the summer doesn't mean your kids can't keep learning! Check out our Xploration Summer Camps, a fun and educational adventure for your children. These week-long science classes are available for children ages 5 to 12 from June 1 through August 14. For more information, visit our web site at hmns.org.