The Houston Museum of Natural Science is currently hosting a special exhibition, The Nature of Diamonds, so this month our booklist features Gems and minerals.
According to www.rocksforkids.com a mineral is the same all the way through, and  there are about 3000 known minerals on earth.  A rock, on the other hand, is made from two or more minerals. 
For young children, Let's Go Rock Collecting by Roma Gans is a great introduction to rocks.  The book begins by saying that people collect many things, and that the oldest thing you can collect is rocks.  In simple terms, with wonderful illustrations and photographs, Ms. Gans explains the three types of rocks—igneous rocks, sedimentary rocks and metamorphic rocks.
You will learn how magma becomes lava which becomes igneous rocks. You will also see photographs of granite, quartz and basalt –  all igneous rocks.  Sandstone and limestone are examples of sedimentary rocks.  The Egyptian pyramids were made from limestone. In modernt times, limestone is mixed to make cement. Metamorphic rock means changed.  Slate is a metamorphic rock that used to be shale before being exposed to intense heat and pressure.
Children are encouraged to collect rocks, and examples of simple rock collections are pictured.  Rocks are everywhere, so collecting rocks is an inexpensive introduction to science.  And, who knows?  You might grow up to be president of the Houston Museum of Natural Science!
Byrd Baylor's Everybody Needs a Rock begins "Everybody needs a rock.  I'm sorry for kids who don't have a rock for a friend."  Baylor gives the reader rules for finding a special rock, something you might keep forever.  The rules say you can find a rock anywhere, but make your choice when things are quiet.  You need to look the rock in the eye to make sure it is the perfect size, color, shape and smell.  Do not let anyone help you make the choice — the decision is yours alone. 
Baylor's words paired with Peter Parnall's simple black and bronze drawings work together to create quite a book that will make children anxious to begin the search for their own rock.
Gemstones by Ann O. Squire is a nonfiction introduction to gems.  You learn that deep within the earth, high temperatures and pressure transform minerals into crystals which can be cut, polished and sold for thousands of dollars.  A crystal must pass 3 tests to be considered a gemstone:  it must be rare; it must be beautiful; and it must be hard enough to resist scratching or breaking.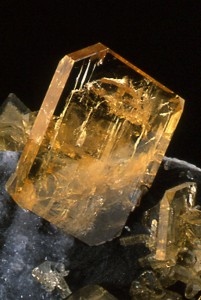 Squire says that gemstones began forming millions of years ago up to 100 miles beneath the earth's surface.  The intense heat caused the rocks to become magma which contains tiny mineral crystals.  Pressure caused the magma to erupt from the earth as a volcano or flowing between layers of rock.
Diamonds, rubies, sapphires and emeralds are inorganic minerals, meaning they have never been alive.  A pearl, however, comes from a living source — an oyster.  Amber comes from the sap of trees that lived long ago and coral is made from the skeletons of tiny sea creature.
Squire briefly explains some of the superstitions involving gemstones and tells how the idea of birthstones began.
Don't miss the Cullen Hall of Gems and Minerals including the Lester and Sue Smith Gem Vault on the second floor of the Houston Museum of Natural Science.  You will see the most incredible collection of gems and minerals in the world.