We are very excited to have recently announced the next venue for Lucy's Legacy: The Hidden Treasures of Ethiopia: Times Square! The world's most famous fossil, Lucy, will soon go on display in the world's most famous destination – when the exhibition opens June 24 at Discovery Times Square Exposition, a new, state-of-the-art facility located in the former printing presses building New York Times.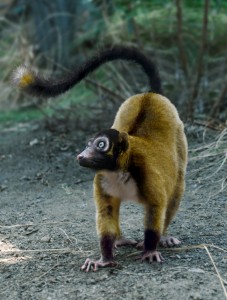 A recreation of what Ida would have
looked like in life, by paleoartist
Viktor Deak.
In addition to Lucy and the other fascinating fossils and stunning artifacts seen in the world premiere of the Lucy's Legacy exhibit in Houston, the exhibit in New York will feature preliminary results from the research recently completed on the Lucy fossil in UT's High-Resolution X-ray Computed Tomography Facility, one of the world's premier labs for this work, as well as an interactive experience with Viktor Deak, one of the world's leading paleoartists. Deak created the 10-foot-tall, 78-foot-long mural representing 6 million years of evolutionary history in Ethiopia (check out an online version here) that you may have seen when Lucy's Legacy debuted in Houston – and he's created brand-new paleoart for the exhibit in New York. He'll be in the exhibit frequently, where visitors can observe him at work, ask him questions and learn first-hand how he has merged his passions of science and art to communicate an understanding of our prehistoric past, as well as how he utilizes modern technology to re-create a vision of our beginnings more vivid than ever before.  
Perhaps most exciting – we announced today that the newly famed fossil Ida (Plate B) will also be on display in the Lucy's Legacy exhibition when it opens in New York. Officially called Darwinius masillae, this 47 million-year-old fossil is almost-unbelievably well-preserved, providing a window into our primate past – when the key adaptations of opposable thumb and big toe had just evolved.
Hear Dr. Robert Bakker, visiting curator of paleontology, discuss the significance of Plate B of the Ida fossil – including preserved fur and stomach contents – in the video below.
Headed to New York this summer? Know any science buffs in the area? Be a fan of the "Lucy's Legacy in Times Square" page on Facebook for the latest news, photos and video from the exhibition.