It's summer in Houston and that means that the humidity is knocking at the door.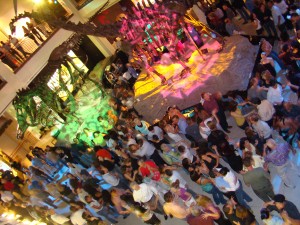 Most ladies dread that frizzed out hair look, but not you! You're going to make the best of that crazy do by putting on that off the shoulder shirt from Express, those white hot leggings from American Apparel, and you're going to Vogue like Madonna always wanted!
Go ahead, pair that crazy outfit with checkered keds – why? Because Molly & the Ringwalds will be playing at Mixers & Elixirs this Friday night! That means the craziest, coolest, most tubular band is going to ROCK OUT at HMNS under the dinos. See you at 6 p.m.! Be there or be square!  
This week: Molly & The Ringwalds
July 3: Holiday Weekend – Mixers Resume July 10
July 10: Experience a British Invasion with The Fab 5
July 17: Join the high-energy dance floor with the bilingual band Mango Punch
Many more fabulous Mixers to come – check out mixershouston.hmns.org for more info!