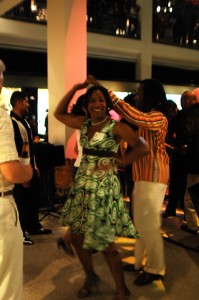 Like a new pair of blue suede shoes, The Handsomes have the finesse and character to get anyone on their feet and and rocking to ska, reggae, funk, soul, rock, or whatever is the next card up their sleeves. If a high energy performance where the unexpected is the norm is your idea of the perfect Friday night, come to Mixers & Elixirs at the Houston Museum of Natural Science from 6 – 10 p.m. for an evening to remember!
Start the evening out right in the Grand Entry Hall at 6 p.m. with a DJ, cocktails, and a visit to the Audi Lounge, where you can enter to win the "Awesome Audi Weekend" Sweepstakes. Doors open at 7 p.m. for the live band, dancing under the dinosaurs, cash bar and complimentary appetizers.
This week: The Handsomes
June 26: Make a break for the 80s with Molly & The Ringwalds
July 3: Holiday Weekend – Mixers Resume July 10
July 10: Experience a British Invasion with The Fab 5
Many more fabulous Mixers to come – check out mixershouston.hmns.org for more info!