The Houston Museum of Natural Science was founded in 1909 – meaning that the curators of the Houston Museum of Natural Science have been collecting and preserving natural and cultural treasures for a hundred years now. For this yearlong series, our current curators have chosen one hundred exceptional objects from the Museum's immense storehouse of specimens and artifacts—one for each year of our history. Check back here frequently to learn more about this diverse selection of behind-the-scenes curiosities—we will post the image and description of a new object every few days.
This description is from Lisa Rebori, the Museum's Vice President of Collections. She's chosen a selection of objects that represent our Museum's history, and our collections of historical technologies, that we'll be sharing here – and at 100.hmns.org– throughout the year.

The Thatcher calculator, known as a drum calculator, was invented by Edwin Thacher as an improvement to George Fuller's 1879 model.  Also known as a "Squirrel Cage," it is 18 inches in length and 4 inches in diameter and is an evolved form of the slide ruler.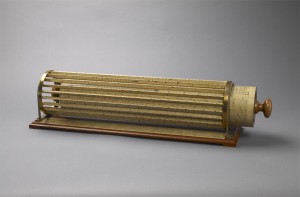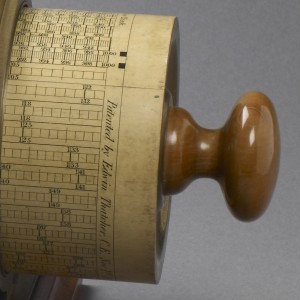 First patented in 1881 it is capable of complex calculations up to four digits, and was widely used in the scientific and engineering communities.  The inner drum spins within the outer cylinder as well as slides out.  The varied markings are graduated logarithmic scales which allow for several different types of calculations. 
The calculator was produced by a Hoboken, New Jersey instruments company, Keuffel and Esser.  On an odd note, the company misspelled Mr. Thacher's name as 'Thatcher' for the entire life of the instrument's production.
You can see more images of this fascinating artifact – as well as the others we've posted so far this year – in the 100 Objects section at 100.hmns.org