Summer is a time for exploring and growing, and there is no better place for learning and fun than at HMNS Xplorations Summer Camps!
As a child, my very best teachers taught English and American History, so I grew to love these subjects.  Either my science teachers were not my strongest teachers or I fell into the trap that existed at the time—science was for boys.  Because of my background (or lack of background) in science, it is very important to me that my granddaughters love the excitement and wonder around them.  Summer camp at HMNS is the perfect place for this love to be planted and nurtured.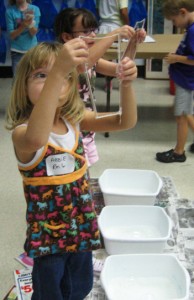 In addition to camps at HMNS, camps are held during selected weeks in The Woodlands and in Sugar Land.
Camp topics are age-appropriate.  For example, my oldest granddaughter, Abbie, has taken Amazing Animals, Booms and Blast-Offs, Build it Big, Art Smart, DinoMite, Bug-a-Boo and Waterworks.  Last summer during Waterworks, the students made bubbles.  In the photo to the left, Abbie is concentrating hard on a bubble made from soap, water, glycerin and straws.
In the same class, the students were fascinated when a Hula Hoop and wading pool plus the bubble ingredients created a bubble that surrounded each of them.  Magic!
This amazed camper pictured below is totally surrounded.  What child would not be fascinated by experiences like this?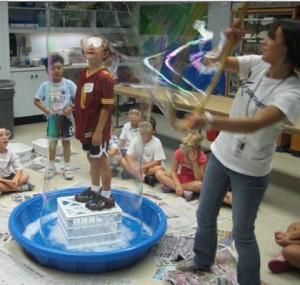 For summer, 2009, the Youth Education Programs Staff headed by Nicole and Kat have added three new camps:  Wild, Wild West, It's Easy Being Green and Freeze Frame.
Wild, Wild West will be held at the Museum and at both The Woodlands and Sugar Land locations.  This camp will help cowboys and cowgirls discover the science and symbols of the Wild West as they try lassoing, churning butter, branding and participate in a cowpoke cookout.
It's Easy Being Green will be held at the Museum and in The Woodlands.  As campers discover that it is easy being green they will experiment with water, wind and alternative energy powered model cars and design a miniature green city.
Freeze Frame will be held only at HMNS.  This camp teaches about old fashioned photography as campers discover the inner workings of a camera by dissecting an eyeball, constructing a pinhole camera, using the sun to make prints, and much, much more.
Its not to late to join in the fun, we still have spots available for the summer! You can register for Xplorations Summer Camps online. If you have a question about camp, please call the camp registrar at 713 639 4625.
I usually write about books, so I'll close with a quote from Stuart Littleby E. B. White.  Stuart reminds us to "Treasure the summers of your life."  A great way to give your children a summer to remember is to enroll them in Xplorations Summer Camps and watch their sense of wonder grow!