This is a test…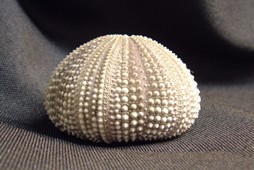 And so is this…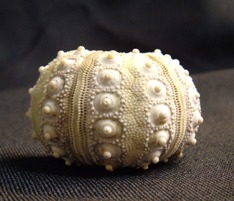 No really – the skeleton of a sea urchin is called a test. Sea urchins are one kind of Echinoderm. And "echinoderm" is not some new spa skin treatment; it means "spiny skin" and refers to the phylum name for sea stars, sea urchins, sea cucumbers and all of their salt-water buddies.
At HMNS, we maintain a few living sea urchins in addition to the ones we have preserved for class use. If you haven't been to the Museum lately (or maybe you have, but didn't notice the tank), there is a salt water tank in the Grand Hall that houses the sea urchins, lightning whelks and horseshoe crabs we use in our Outreach program, Wildlife on Wheels. The sea urchins we currently have are of two kinds: Variegated or Short-spined Urchins (Lytechinus variegatus) and Pencil Urchins (Eucidaris tribuloides). While they are related, they are very different in appearance. The Short-spined looks more like a pin cushion and the Pencil Urchin looks more like pretzel sticks stuck to a ping-pong ball.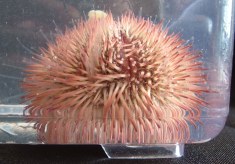 Their different appearances give us clues to their behavior and lifestyles. You will often see our Short-spined Urchin clinging to the side of the tank with shells and bits of rubble stuck to it. These urchins are more active during the daytime, and the most favored theory is that they use the small pieces of shell or rock as sun protection (like a hat to prevent excessive UV exposure.) Their spines are rather sharp and a great defense. Not that there are predators in the tank, but the horseshoe crabs have been known to roll the urchins around, sort of exploring the other occupants of the tank. We keep telling them the urchins are not toys, but they haven't really caught on yet.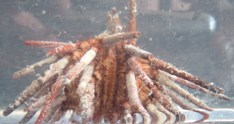 The Pencil Urchins move very little, so if you visit the tank on your way in and stop by on your way out, they are likely to be in the same place. They often go unnoticed in the tank. These urchins have very blunt spines (hence the "pencil," though I'd like to see one named the Pretzel Urchin). More active at night, they spend their days holed up in rocks to avoid predators. Once they wedge themselves in, it is very difficult to remove them; far easier to move the rocks in our case.
If you want to learn more about sea urchins and their fellow echinoderms, check out your local aquarium or library!