"How do you count scorpions?" Well, carefully is the best answer. The same can be said for any animals with either pinchers, claws, or really sharp teeth. That pretty much covers the majority of our animal collection here (except for the amphibians).
The next question that pops to mind is: why would you count scorpions? Like many institutions that maintain animal collections, an inventory is essential and often required by law. Check out this article from the Seattle Times on the London Zoo, when they were taking inventory of their collection.
While our collection is much smaller, we still have to keep proper notes and update our inventory list. It just seems a bit tedious when you are trying to count roaches. Prolific, fast-moving roaches. See how many you count in the picture below and then imagine what happens when you scare them.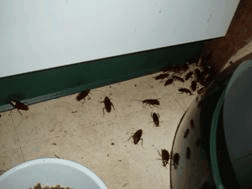 Aerial shots of our Roach Dome – a simulated
home environment exhibit in the Butterfly Center,
where we house numerous cockroaches for display.