One of the many duties of the Chief Projectionist is to assemble films.  Night at the Museum 2: Battle of the Smithsonian, like the first film, is 32 separate reels.  Each reel is carefully wound to the projection system reel unit, which can take 8 – 10 minutes at a time.  Every reel is numbered to indicate the sequence which is first and which is last.  It takes time and a lot of patience to put together an IMAX film. 
This particular "Hollywood" film only took 5 hours to assemble.  Once the film is complete, then one must check their work, which is a stressful moment when assembling a film.  You can say that those in the digital world do not have this duty, more like click and drop.   The art of splicing remains at HMNS, the "reel" thing.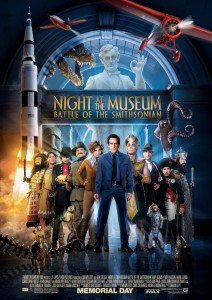 Night at the Museum 2: Battle of the Smithsonian has more animals, more action, more characters and a lot more laughs, which HMNS is proud to present to IMAX enthusiasts. After assembling the 32 reel; 105 minute movie, I became engulfed in this enjoyable adventure.  Since the film took place in the Smithsonian, a few key artifacts from history make an appearance as well.  Artifacts such as Dorothy's ruby slippers, Archie Bunker's chair, Muhammad Ali's boxing robe, and notable works of art play a role in the film.  Oh, and for you younger teens, the Jonas Brothers make a notable cameo too.  So you could say that this movie has it all.
 
I would hope that museum visitors will sit in this IMAX experience and become as enthralled as I did.  I would also encourage the visitors to stroll through our exhibit halls after the film if they can and see a bit of history and science, which includes an exhibition of one of the characters in the film, Genghis Khan. 
 
If Fox studios and director Shawn Levy plan to make a third installment of Night at the Museum, I would definitely nominate HMNS for Larry Daley's next adventure.  
  
Night at the Museum 2: Battle of the Smithsonian opens today!