The Collections staff has been busy!  With all the various and sundried exhibits going out and coming in, at times it seemed we morphed into spinning tops.  But here are a few moments from the behind the scenes of the installation of The Nature of Diamonds and the Terra Cotta Warriors: Guardians of China's First Emperor exhibits.
First off, let me confess, I'm a jewelry hound.  Due to budget limits, my own personal stash is less than stellar – but my appreciation of gemstones and precious metals knows no bounds.  Thus I couldn't wait to work on the Diamonds installation and I enjoyed it immensely.  One thing did surprise me though.  Who knew rough stones could be so interesting?  Not many of us have the opportunity to hold and closely examine a diamond before it's been cut and polished, so it was really cool to get the chance to do so.  Despite what I thought I knew about diamonds, I hadn't a clue that nature could provide perfect geometry on a rough stone.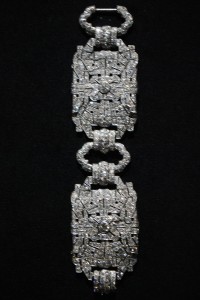 Bracelet belonging to Mae West
Really close-up inspection (and I mean really close up, like peering through 10x magnification) sometimes reveals tiny triangle shapes called trigonals on the stone.  I got a little fascinated with the trigonals, being sure to spot them whenever a condition report indicated them on a rough stone.  These perfect equilateral triangles are not easily discernible without magnification, so I'm not sure you'll be able to see them in the rough stones that are in the exhibit.  But just like Horton hearing a Who, trust me they're there!  Pretty amazing.
Another thing I learned was the etymology of the word carat.  I'm not giving this one away; you'll need to look for it yourself when you visit.  It makes sense but it would have never occurred to me on my own.  While you're looking for the lingual origins of carat, linger for a while at the Mae West bracelet.  It caught me off guard because I've always thought of her as being rather statuesque.  The bracelet's wide but its circumference is small.  Apparently she was quite petite; it was her personality and jewelry that loomed large.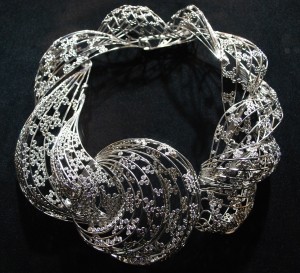 Milky Way Galaxy Necklace
As for the actual sparkly stuff, forget all the song lyrics and advertising copy and just say WOW.  And say it multiple times.  Let me assure you that the HMNS Collections staff maintains a detached and professional attitude towards all museum objects, each one treated with the utmost care and regard.  However, the women in the department are only human and we couldn't help but play the "What's Your Favorite?" game.  (Our male colleagues were disinclined to play; they mostly shrugged their shoulders and walked off.)  Lisa is partial to all of the tremblant pieces because she likes the motion in them.  Bryanna can't decide between the Frank Gehry necklace and the Selma Hayek tiara bracelet.  The dragon pin with the ruby eyes is the one for Eydie.  Beth favors the yellow heart-shaped diamond ring because the stone is so perfect "you can walk right into it."  Yours truly has to have two favorites – the vintage diamond and emerald brooch with a small pendant watch and the twenty-first century Milky Way Galaxy sculptural necklace.  After you've seen the exhibit, let us know what your favorite is.  If you can decide, that is.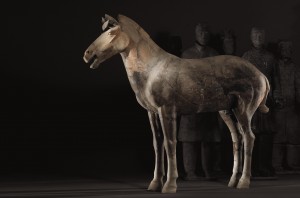 Then, there's the impressive Terra Cotta Warriors.  The details in the figures are absolutely stunning.  Even the horse's teeth are perfectly done.  Obviously, the objects are ancient and fragile.  We never rush around museum objects but there were times I held my breath as I slowly moved through the installation.  Yet when I stood still, the figures didn't seem inanimate at all.  Especially once they all got their heads!  I did have a Night in the Museum moment when I briefly wondered if they all step off their mounts at night and march around HMNS.
Our Chinese colleagues are very congenial.  We had a good laugh when one of them showed us an NBA jersey she bought for her 15 year old son.  No, not Yao Ming – but Monta Ellis of the Golden State Warriors.  Since pretty much everyone in China has a Rockets Ming jersey, her son will be particularly cool for wearing the NBA jersey of another favorite player.  I wonder what the terra cotta warriors would think of men chasing after a ball who also call themselves warriors.
I'm ending this on a somewhat unrelated to HMNS note.  If you're visiting Philadelphia this summer, be sure to see the Galileo, The Medici and The Age of Astronomy exhibit at the Franklin Institute.  It features one of the two surviving telescopes belonging to Galileo.  I saw the exhibit a few weeks ago and thought it was quite good, very worth the time.  Unfortunately, this exhibit's only venue is in Philadelphia before returning to Italy.  If you're a fan of astronomy and science history, you won't be disappointed.