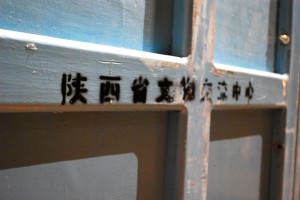 The Kneeling Archer's crate.
Terra Cotta Warriors: Guardians of China's First Emperor opens May 22 – and right now the exhibit preparations are underway. Winches are lifting heavy artifacts into place, curators are placing objects just so, the exhibits team is building out the space in which you will experience this Eighth Wonder of the World. The story of the 2,200 year old Terra Cotta Army of Qin Shi Huang, China's first emperor is coming together once more, just waiting to be discovered.
Last Thursday, the artifact emerging from its shipping crate was The Kneeling Archer – one of the most perfectly preserved warriors in the exhibition. The Museum had invited media to witness the event, and you could feel the anticipation as countless bolts were loosened and the lights began to shine into this warrior's temporary home.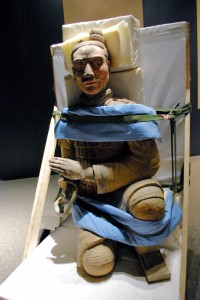 The Kneeling Archer, before he is
fully uncrated for display. You'll see him
in the first gallery of the exhibit,
opening May 22 at HMNS.
Seeing this Warrior up close – his steady gaze, the craftsmanship that made his body seem ready for battle even after two millennia, the delicate layers of paint still offering a slight burst of color to his uniform and features – it was an amazing, and very dramatic, experience. Visitors to the exhibit will see The Kneeling Archer as well as 13 other warrior figures, plus other tomb artifacts from the necropolis of Qin Shi Huang (my favorites: the gorgeous life size swan figure, and warriors that were excavated with parts missing – you can see inside to the craftsmen's markings.)
We were able to take some photographs to share the moment with you – more are available as a set on our Flickr page – or, click here for a slideshow.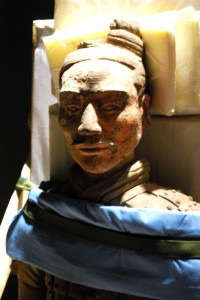 The face of a Warrior.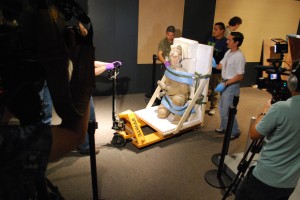 Camera crews get a sneak peek at The Kneeling Archer.