The Houston Museum of Natural Science was founded in 1909 – meaning that the curators of the Houston Museum of Natural Science have been collecting and preserving natural and cultural treasures for a hundred years now. For this yearlong series, our current curators have chosen one hundred exceptional objects from the Museum's immense storehouse of specimens and artifacts—one for each year of our history. Check back here frequently to learn more about this diverse selection of behind-the-scenes curiosities—we will post the image and description of a new object every few days.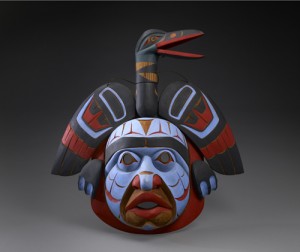 This description is from Dirk, the museum's curator of anthropology. He's chosen a selection of objects that represent human cultures throughout time and around the world, that we'll be sharing here – and at 100.hmns.org – throughout the year.
This contemporary Bella Coola dance mask was carved by a member of the Lelooska family. The mask represents a Nuxalk people (Bella Coola) myth. In this myth, a young individual, belonging to a high ranking family, found himself afflicted by a terrible disease. It made him repulsive to all who saw him and made it impossible to get married.
One day, the young man walked off in the woods and happened upon a mysterious lake. In the lake was a supernatural being in the form of a loon. Taking pity on the youth, the loon swooped him up and dove down into the lake with him. When they surfaced, the young man discovered that he had been given supernatural power and great beauty. He married and brought much honor to his people.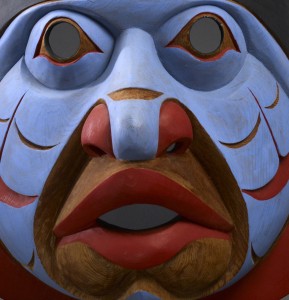 Explore thousands of years of Native American history in the John P. McGovern Hall of the Americas, a permanent exhibition at the Houston Museum of Natural Science.
You can see more images of this fascinating artifact – as well as the others we've posted so far this year – in the 100 Objects section at 100.hmns.org