The Houston Museum of Natural Science was founded in 1909 – meaning that the curators of the Houston Museum of Natural Science have been collecting and preserving natural and cultural treasures for a hundred years now. For this yearlong series, our current curators have chosen one hundred exceptional objects from the Museum's immense storehouse of specimens and artifacts—one for each year of our history. Check back here frequently to learn more about this diverse selection of behind-the-scenes curiosities—we will post the image and description of a new object every few days.
This description is from Lisa Rebori, the Museum's Vice President of Collections. She's chosen a selection of objects that represent our Museum's history, and our collections of historical technologies, that we'll be sharing here – and at 100.hmns.org– throughout the year.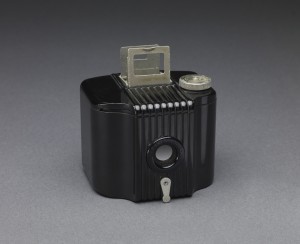 Baby Brownie cameras were one of the many varieties of the Brownie camera made for the Eastman Kodak camera company in the early to mid-1900s. This particular camera, designed by Walter Dorwin Teague in the art deco style, was patented and produced from 1934-1941.
Originally sold for $1.00, the plastic camera ran on 127 film (which was included) and produced 6 x 4 inch images. The Baby Brownie was mainly marketed towards children, and Kodak claimed it was so easy to use that "anybody, man, woman or child, who has sufficient intelligence to point a box straight and press a button" could take successful photographs.
Brownie cameras helped to launch photography as a hobby and the 'snapshot' was introduced. Since people no longer needed to understand the technicalities of cameras or the development of film in order to take a picture, cameras became a staple in the American home by the 1950s.
The small size, travel portability, and low cost of the Baby Brownie (developing film cost 40 cents per roll) allowed for a new use of the photographic medium – creating a new window into life in the home, at work, at leisure, and while traveling. Thus, photography was now spontaneous and no longer restricted to the rare family portrait or the work of an artist.
You can see more images of this fascinating artifact – as well as the others we've posted so far this year – in the 100 Objects section at 100.hmns.org