I've been meaning to write this blog, it seems like, forever. I traveled to the city of Xi'an in China to see the Terra Cotta Warriors a couple of months ago and the experience was…Actually, I can't quite put it into words, which is why it has taken me a while to share my story with you. The words I want to use are "enlightening;" "awesome;" "once-in-a-lifetime;" "amazing;" "breathtaking;" etc. But it was so much more than that.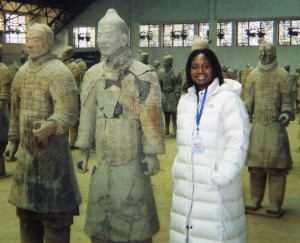 Me standing in Pit 1
Here I was standing in Pit 1 at the Terra Cotta Warrior Museum amidst thousands of life-size warriors dating to around 200 BC—one of the most sensational archeological finds of all time. How can I simply find the right words to describe this?
After walking into the Pit on my initial visit, I turned to my colleague, Lisa, and commented: "when I was growing up, never in my wildest dreams did I ever think I would be in China standing at this legendary site." And, I must admit China was not on my Bucket List.  However, I advise you to add it to your list if you haven't done so. It is estimated that more than two million people a year travel to Xi'an to view the famous clay warriors.
Because I can't seem to find the appropriate words to describe how excited I am about the arrival of the special exhibition, Terra Cotta Warriors: Guardians of China's First Emperor opening May 22, as well as explain to you just how grand this experience will be for visitors without gasping for air out of pure enthusiasm, I recruited our Curator of Anthropology, Dirk Van Tuerenhout, to share his thoughts. His commentary is mixed with video I captured during my trip.
Click on the play button below to hear his tale of the First Emperor and the Terra Cotta Warriors and what you can expect to see in this unprecedented show.
Has anyone ever visited China's Terra Cotta Warrior Museum? If you can put your experience in words, please share your story with us.