Today's guest blogger is Dr. James Delgado from the Institute of Nautical Archaeology. Dr. Delgado is giving a lecture at HMNS on Tuesday, April 21 at 6:30 p. m. Dr. Delgado will be discussing Khubilai Khan's failed naval attacks on Japan in the thirteenth century; he was part of the expedition that uncovered part of Khubilai Khan's lost fleet in 2001.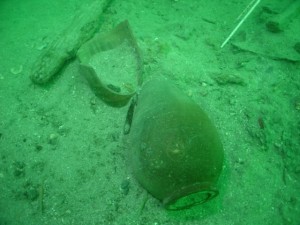 When people hear the words "Mongol invasion," they probably think of fast riders on horseback.  They most likely do not think of warriors on the decks of ships.  In 1274 and in 1281, however, Khubilai Khan, Great Khan of the Mongols and conqueror of the Song Dynasty in China, sent invading fleets against Japan.  His troops, consisting of Mongols, Korean vassals and conquered Chinese were defeated, according to legend, by a divine wind sent by the gods in answer to Japanese prayers for victory.  The Japanese term for those divine winds, "kamikaze," has come down through history as a potent phrase more famous for its use in World War II, when pilots crashed their planes into the sides and decks of enemy ships.  Many people do not remember the legendary events of several hundred years ago, when Mongol invaders twice tried, and failed, to add Japan to the globe spanning empire started by Genghis Khan, Khubilai's grandfather.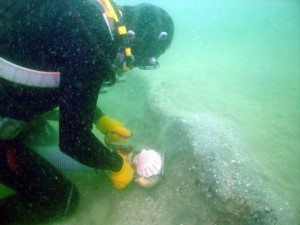 Archaeologists seeking traces of Khubilai's invasion were finally successful in the 1980s when evidence of the ships and the battles fought around them surfaced from Imari Bay, off the southern coast of Kyushu. 
I was fortunate to join a team of Japanese archaeologists in 2001 when they found and began to excavate the remains of the Khan's lost fleet.  What they found and what I had the opportunity to dive on was amazing – scattered timbers, swords, armor, ceramic pots used to store food and water, and amazing technological marvels in the form of clay bombs, filled with gunpowder and metal shrapnel that the Mongols hurtled at the Japanese from ship-mounted catapults.  These bombs, the earliest explosive devices ever found and used in naval warfare, are a reminder that "modern" technology dates back centuries and that China, as one of the oldest civilizations on earth, was an early innovator and inventor of many things that we still use today such as gunpowder and paper.
In my presentation on Tuesday night, I am going to share images and impressions of the invasions of Japan by the Mongols, and show you what was found underwater and what we've learned from the excavations including the incredible work done by Texas A&M nautical archaeology graduate student Randall Sasaki.
Join us at HMNS Tuesday night as Dr. Delgado presents the story of Khubilai Khan and the findings from the Japenese archaeological team that uncovered the lost fleet.