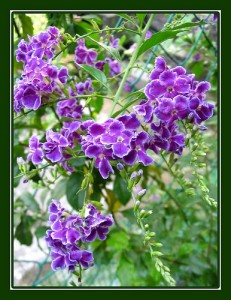 Duranta Plant

 Photo credit: Jayjayc
This Saturday, April 4, the Cockrell Butterfly Center will hold its highly anticipated spring plant sale, featuring a great selection of plants that are guaranteed to bring butterflies to your garden.  The sale will be held on the sundial plaza just outside the museum's main entrance, beginning at 9 a.m. and ending at 1 p.m.  Come early to get the best selection – plants go fast! 
We feature both nectar plants (to attract a selection of adult butterflies) and several host plants (food plants for the baby butterflies, aka caterpillars).  Of course experienced butterfly gardeners know that you need both to attract the maximum number of butterflies.  But we can also recommend the best starter plant or plants for anyone just wanting to get their antennae wet for the first time…! 
Knowledgeable and enthusiastic horticulturalstaff and docents will be on hand to help you make your decisions.  This is the perfect time of year to get plants in the ground – and the butterflies are just beginning to show up en masse (eager to lay their eggs to start a new generation) – so get ready for them by coming to this sale!
A quick list of nectar plants includes (among others) – several species of salvia, verbena, cone flowers, duranta, lantana, porter weed, and many more.   Available host plants include Brazilian pipevine, Mexican milkweed, cassia, and citrus.   We also have a few "just for fun" plants – come and see!
The butterflies will thank you for it.