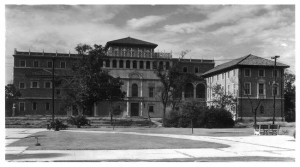 The Downtown Public Library in 1922,
at the time the museum was housed here.
This year, the Houston Museum of Natural Science is one hundred years old. And, it got me to thinking, "What was Houston like when we got started?" Here's a little taste of history: In 1909, President Taft had a procession down Main Street; W. W. Baldwin started a trolley line to connect Bellaire with Houston; the mayor was H. Baldwin Rice; and the museum was established as the Houston Museum and Scientific Society and was housed in the City of Houston's public auditorium and at the downtown public library.
Now here we are—in 2009—celebrating a century of science. Through vigorous efforts, HMNS has grown to become one of the highest-attended museums in the United States with millions of people visiting each year from around the globe. And in honor of our 100th year, we thought it would be a great time to introduce you to some of our HMNS legends that have been instrumental in the museum's growth and have seen the Museum blossom from a new organization welcoming visitors to an assortment of small exhibits, to an expansive multi-story science center.
Today, you'll meet Irene Offeman. When she looks back during her 26 years of service at the museum, she can talk for hours and still have many more fascinating stories to tell. After leaving her home, I told my colleague Erin that Ms. Offeman is the epitome of what Phil Munsey describes as the meaning of "legacy" in his book, Legacy Now – that life is not just about how you live but what you leave behind.
Ms. Offeman left a concrete thumbprint on this amazing institution, including a detailed plan for a new paleontology hall which we're in the process of developing today (the reason behind our current capital campaign). Ever since I met her, I have looked forward to sharing her story with you. Take a look at the video and let us know what you think – you can also see more stories at our Centennial web site.