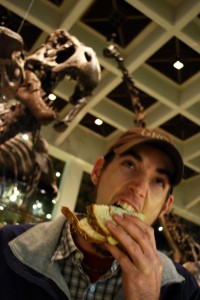 Chris takes a Big Bite in
front of the Biggest Biter
of all time – T. rex.
We know you're hungry, Houston! And in honor of Big Bite Nite (coming up at HMNS on April 30) we're looking for your Biggest Bite!
Show us a picture of your biggest bite of your favorite food – the goofier, the better – and you're entered to win an amazing Grand Prize – including cooking classes with Chef Polo, of Polo's Signature; gift certificates to Houston's finest restaurants; and tickets to Big Bite Nite, the hottest food event of the year.
It's simple to enter! (not to mention lots of fun!) Just upload a photo of your Biggest Bite of your favorite food to our event web site – and that's it. Entries will be judged by a panel of HMNS foodies – we're looking for enthusiasm, humor and adherence to the theme – so show us a BIG BITE!
Here are a few more Big Bite photos for inspiration – the sillier and more fun, the better! And for all you social networking junkies – you can also enter on Facebook!
So, what's Big Bite Nite? It's a brand-new, lavish culinary affair at the Houston Museum of Natural Science this April 30, 6 – 9 p.m. See which delicious delicacies you can sample that night; enter the "Show Us Your Biggest Bite" Photo Sharing Contest; check out our new video series, The Science of Food; and get more event info at the new event web site.