We were blown away by the amazingly Big Bites that were submitted to our "Show Us Your Biggest Bite" Photo Contest, in honor of Big Bite Nite this Thursday night – we had vampires, shark attacks, feats of perspective, giant slabs of food and much more. Suffice it to say – hilarity ensued.
Thank you to everyone who entered – and congratulations to winners Alan Steinberg and Lin Lin Shao! The competition was fierce – but they were up to the challenge. You can see their champion Big Bites below, and read their inspiration in taking these great photos, in their own words. You can check out the rest of the entries on the event web site and on Facebook.
Alan Steinberg (Facebook winner)
So this past December I was in Las Vegas and while walking down the strip, what do I see?!? A huge M&M (or is just M?)! While most people just wanted a picture next to it… I knew that the reason it was here on the strip was the satisfy my sweet tooth! How could I resist having my picture taken trying to get it to melt in my mouth rather than my hand?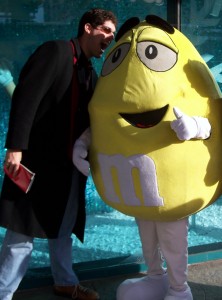 Alan Steinberg's Big Bite
Lin Lin Shao (Big Bite Nite web site winner)
This picture was taken in Dallas Texas outside a McDonald's shaped as a lifesize happy meal, with huge burgers and fries mounted on the side of the building. I just had to take a picture with it. But anybody who knows me, knows that I dont take boring "stand next to it and smile" poses. You'll never get anywhere in life that way. I always have to do something different. Thank goodness I did because it has allowed me to achieve greatness after submitting it into the contest. I also learned by watching Steven Tyler of Aerosmith.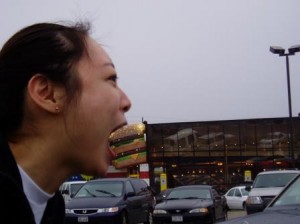 Lin Lin Shao's Big Bite
Congratulations to our winners – and thank you again to everyone who entered! See you at Big Bite Nite!