The Houston Museum of Natural Science was founded in 1909 – meaning that the curators of the Houston Museum of Natural Science have been collecting and preserving natural and cultural treasures for a hundred years now. For this yearlong series, our current curators have chosen one hundred exceptional objects from the Museum's immense storehouse of specimens and artifacts—one for each year of our history. Check back here frequently to learn more about this diverse selection of behind-the-scenes curiosities—we will post the image and description of a new object every few days.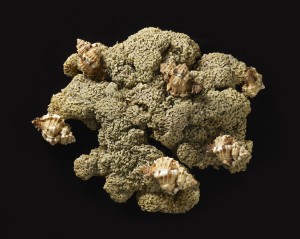 This description is from Tina, the museum's associate curator of malacology. She has chosen a selection of objects that represent the most fascinating shells and animals in the Museum's collections, that we'll be sharing here – and on hmns.org – throughout the year.
A rarely seen egg mass of Murex pomum Gmelin, 1791 is the result of communal cooperation.  By joining together with other females to deposit their eggs, the protection afforded to the unborn is greatly increased.  Not only is there security in the large numbers for the newborns, but the mass is also a more formidable whole to repel determined predators. 
These impressive structures are accomplished by numbers of females ranging from two or three adults to twenty or more. 
This egg mass was found washed ashore on a beach on Sanibel Island, Florida, USA.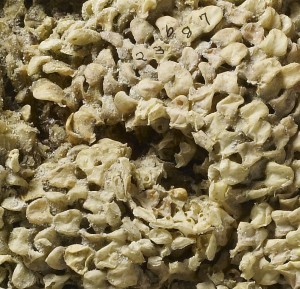 Learn more! Dive into the Malacology Hall, a permanent exhibition at the Houston Museum of Natural Science.
You can see larger and more detailed images of this rare specimen – as well as the others we've posted so far this year – in the photo gallery on hmns.org.