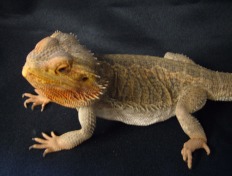 Merlin, our bearded dragon
You can pick your friends and you can pick your nose, but you can't pick your friend's nose. Even if your friend is a Bearded Dragon.
I have been working with reptiles for quite a while now and have seen some weird things. But one of the weirdest happened during Summer Camp. Our bearded dragon had just shed the majority of his skin except for a few pieces around his mouth. It was actually one of the campers who noticed another piece of skin protruding from the beardie's nose. It had sand on it and we couldn't tell if it was coming out or stuck into his nose, so we picked at it and out it popped.
It was bizarre looking, kind of stringy, and surprisingly long – just over a centimeter. As it turns out, we were a little hasty. Since our beardie wasn't having any difficulty breathing, we could have left the nostril shed alone as it would have come out on it's own (if you are properly caring for your dragon). Our dragon is none the worse for having "picked" his nose but we definitely won't do that again since the sensitive linings of the nose could have been damaged.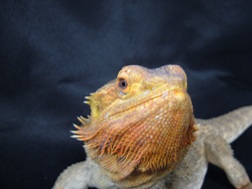 What are you looking at?
I like learning something new every day – and this definitely qualified as a new thing. So like Shel Silverstein's sharp-toothed snail – don't pick anyone's nose, you never know what's in there.
Learn more about Bearded Dragons! Check out our posts on baby beardies born at HMNS.