Today's post is written by Sibyl Keller, a volunteer recruiter and educational coordinator at HMNS. Today, she updates us on the bearded dragon eggs that were recently laid in the volunteer office. Read her first post for the ful story.
WOW — What a week in the Volunteer Office! 
The incubator holding 12 bearded dragon eggs quietly lived on my kitchen counter next to the coffee maker for over two months.  The lizard lovers at the Museum patiently waited, day after day, wondering if Monster's first clutch of eggs were even viable.  Through my research, I had read that many times the first clutch is not fertile; therefore, would not produce offspring. 
We were all elated that Monster actually laid 24 eggs – but, the disappointment of not producing at least one baby lingered in our minds. I had handled the eggs in search of any signs of life, but unfortunately I never discovered any indication of development.  Monster's owner, Chris, asked daily about any "new news" I could offer.  As days passed, it didn't look promising.  I told Chris I would bring the incubator in so he could see what I believed was not happening.  The incubator slowly traveled back to the Volunteer Office last Tuesday.
As I was in my morning routine of misting the lizard eggs that Tuesday morning – I noticed one of the eggs had shriveled up a bit and a dark spot had developed on the top part of the egg.  Maybe I had misted the eggs too much and I thought they might be starting to mold.  It was Chris who first noticed the dark spot was not mold but was actually a protrusion which was emerging from the top! 
Miraculously, 59 days after Monster laid 24 eggs – the first baby beardie was in the process of hatching!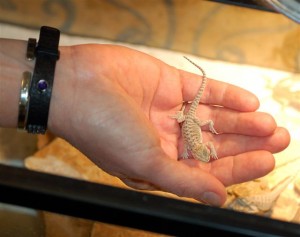 The discovery traveled through the halls of the Museum like wildfire and the first hatchling was welcomed by Museum friends throughout the day!  We watched this little hatchling ease itself into this world through hours of intense struggle. 
By late afternoon, the hatchling – fully emerged – laid limp next to the empty shell of the protected life it had developed from.  Amazingly, it was totally camouflaged – the same as the color of the substrate the egg had been nestled in for over two months! 
Unsure if this little girl was actually going to make it – we patiently waited.  It couldn't have been but an hour later, this limp little fragile body became a mini-mass full of energy and the little hatchling was racing from corner to corner inside of the protective incubator walls! 
Through the magnifying glass, we studied every inch of this new creature. Her delicate toes, her wondering eyes, the perfectly laced frill circling her body to the intricate design of the pattern of her scales – the perfection of this creation amazed us all!  From her delicate features and her gentle personality, we agreed she was a girl.  If Monster and Leonardo only knew the miracle they had created!
So incredibly satisfied with the birth of this baby beardie, little were we expecting the revelation that took place through out the rest of the week!  Like clockwork, each new life chose his or her day to enter this world.  The second hatchling chose Wednesday.  Feisty, inquisitive and full of energy – we decided this one was a boy.  The third chose Thursday, and two chose to hatch on Friday!  We were elated by the end of the week – five babies had entered our world!
At the arrival of the first baby, I contacted Kathy and Leo.  This incredible team – a mother and her son, who have been sharing their passion of the animal world through their volunteer commitment at HMNS for years now.  It was their incubator they shared with me, along with the guidance and knowledge from their own personal experience in breeding and raising not only bearded dragons – but a multitude of critters!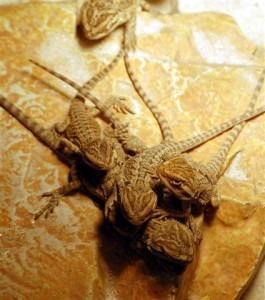 My first concern was how long these babies could exist without eating.  What else could I offer them, since days after introducing mini-crickets – the babies were still not eating.  I learned that surprisingly, newborns can exist for days while still absorbing the yolk for nutrition from which they developed! 
It was truly astonishing to see how active these little guys were in their first days of life without even consuming their first real 'meat and potato meal' on earth!  Kathy and Leo supplied me with a tiny 'pot of gold,' consisting of a live assortment of tiny beetles and mini-worms that were the most active I've ever seen! 
Now I know from my own experience – that crickets, even the tiniest of all, are too fast for newborn beardies – or possibly it could be those wiggly cricket antennas are just plain frightening!  I think it could just be something about the wiggle of a worm that attracts baby beardies!  That first meal for our first babies was consumed Saturday – that time was truly monumental!  They had chosen to live after all!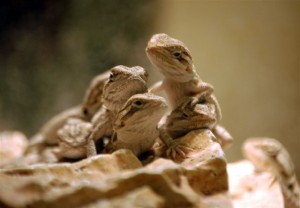 The hatchlings seemed to adapt well to their new habitat – a 10 gallon aquarium, layered with calcium enriched reptile sand, featuring a prominent rock that dwarfed the little critters as its scale appeared mountainous to their newborn size!  We soon found this little mountain would become the corner stone of life for the new beardie clan.
Friday afternoon, the incubator, the new beardie habitat and the 'mighty miracle mister' headed back home with me for the weekend.  Positioned in the same spot on my kitchen counter, the once quiet incubator seemed to have come to life in the past days,  Though it still sat so quietly in the same spot – it seemed to have taken on a whole new song.  As it had become so at work – the incubator and the remaining eggs were all that seemed to exist in our minds.
By Monday morning, February 9 – the new beardie clan was welcomed back at the Museum as a family of eight!  As a final encore, the last baby hatched that afternoon.
Still awaiting its future journey is one lone beardie dragon lizard egg.  Next to it lay two recently introduced gecko eggs Kathy and Leo brought in to join the crew in the incubator on their visit last week.  As I mist them daily, I no longer question if the miracle of life is happening – I now treasure the thought of what is to come.
Though we struggle with the thought and the emotions of our babies graduating and moving on – we also want to share the pleasure and the fascination we have with these fine creatures.  We know that discoveries are truly made daily at the Houston Museum of Natural Science!
Now, we want to offer a chance for our extended family – you – to offer a good home to one of our beardie babies, if interested and qualified.  Nothing could better support the Museum and our mission than a donation towards the HMNS Capital Campaign! 
Our babies are up for adoption – but only if you promise to provide a good, nurturing and loving home to one of them!  With only eight babies available, we will have a drawing in the Volunteer Office Friday, March 6 at 12 pm.  If you are interested in the possibility of owning one of our HMNS home-grown baby beardies, please feel free to stop by the Volunteer Office to put your name in the drawing – or send an e-mail to blogadmin@hmns.org.
If your name is drawn, you will receive your baby beardie as a gift with your donation of $40 to the HMNS Capital Campaign!  Please join us at 12 pm for the drawing this Friday!