As the Overnight Coordinator here at the Museum I have had the privilege of spending many nights here at the Museum. It is a lot of fun, kids and parents often ask if my job is a little bit like the job Larry Daly has in the Night at the Museum movie and I always say "it's not quite THAT exciting!" but it is definitely a great program!
Our Spring Overnight schedule is packed and by the end of May we will have seen 3 school groups from out of state, 5 scout groups and even one Overnight for Educators only! Because some of our school field trips and our weekend Overnights fill up six months to a year in advance, we have decided to start up another option for those of you who'd like to know what the Museum is like after the field trips leave and the doors are shut for the day… the late night of HMNS!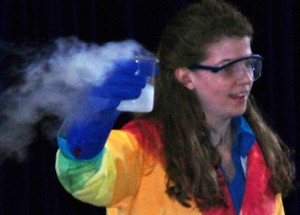 Our first Late Night has been developed for a group that is going to be auctioning off the spots for a fundraiser at their elementary school. They've selected to see a Cool Chemistry show (performed by our very own Carolyn of Science on Stage,) a Planetarium show, have a pizza party with the dinosaurs and then a late night flashlight tour of all of the spooky and gross things to see around the Museum!
The groups for these events are limited and activities can be selected to suit your group so you really do get the personalized backstage pass to the Museum after hours! We're hoping this program will grow and we will be able to share our fun Museum adventures with more students and families who may not be quite ready to stay the whole night with us!! For more information on setting up an Overnight or a Late Night for your group, email me at overnights@hmns.org.  
As part of the FunHundred we're also offering a couple of late night events for families to sign up for individually including  Dinos After Dark and A Night at the Museum — check them out!