Working in the museum's permanent collections I focus on artifacts and specimens – after all, that's my job.  But it's not just the artifacts and specimens that tell a story around here.  It's the people too.  Behind all the exhibits and public areas are many folks hard at work to make science and this museum relevant and memorable to you.
Lately, thanks to a recent staff luncheon given by the HMNS Guild and some quick conversations in the halls, I've been able to get caught up with my colleagues to find out what they doing behind the scenes.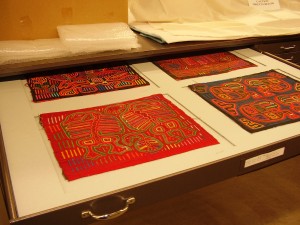 In my own home department of Collections, Dr. Dirk Van Tuerenhout recently gave a lecture on the Birth of Christianity exhibit in the IMAX. (You can read blog posts by Dirk here.)
Dr. Dan Brooks just co-authored an article on the birds of the Pongos Basin in the Peruvian Andes, published in the Wilson Journal of Ornithology. (You can read blog posts by Dan here.)  Several HMNS specimens were cited in the article, which is very cool.  (Plus, I learned what a pongo is.  Look it up for yourself and impress your friends and neighbors.)
The anthropology section in collections storage has been organized and practically transformed by Beth.  She has ensured that all those wondrous artifacts are properly labeled, stored, and easily located.  You have no idea how much work this entailed!  Imagine having all of your stuff from attic to basement labeled and neatly put away – with a color-coded key map.  Truly, my cold registrar's heart is warmed and I get a little misty-eyed just thinking about it.
Anytime you get an in-house phone call that begins with, "I hate to bother you but" you know that intro is going to end with "do you know where David Temple is?".  And I do know for certain that he's been up in Seymour working on the museum's ongoing dino dig with Dr. Bakker (read his posts here).  I doubled-checked with his wife Nicole.
When I climb upstairs to run some mail through the meter I notice it's pretty calm in the Admin offices.  I think they've all finally rested up from last week's very successful fundraising gala.  Poking my head into Kat's office for a quick chat I found out that the education department is immersed in HMNS overnights, teachers' workshops, and getting prepared for a full summer of a multitude of classes.  Don't forget to register your kids pronto, those classes fill up fast.
Next, I quickly check on lunch plans with Tammy, manager of the museum's mineral and fossil shop, who's busy with all sorts of new specimens and arranging them in the cases.  She also provided her expertise at the gala's mineral and fossil auction.  Passing by the museum's visitor services desk I stop briefly to see if I have any mail.  It's been a really busy day, probably due to the start of spring break, and Martha's expression says it all.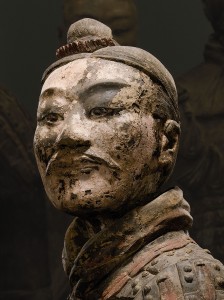 There are some odds-and-ends photographs I need to drop off to the Volunteer Office, an always-upbeat place.  They're happy to have found good homes for all the beardies but were so bereft without them, they bought one at the gala.  He's been aptly named Ka-ching.
Lynn tells me the volunteers are eagerly studying up on the coming exhibits of The Nature of Diamonds and Terra Cotta Warriors: Guardians of China's First Emperor. Karen's in the midst of interviewing Ecoteen applicants and Araceli's booking birthday parties.  Sybil was surrounded by volunteers so I'll catch up with her later.
I actually don't need anything from the exhibits guys, I'm just curious to see what they're working on.  Today they are preparing one of our exhibit halls for the upcoming Terra Cotta Warriors exhibit. Mike and Glen are repairing some walls and ceiling tiles.  Soon they'll be full bore into construction and layout.  Preston and Lex pour over exhibit floor plans.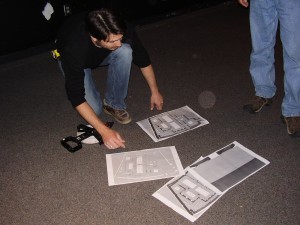 The last colleague I touch base with is Christine, our live animal program manager.  She's been out to a school with our Wildlife on Wheels program, sounds like the first-graders were adorable.  Next she demonstrates the Blue-footed Booby bird dance.  We both crack up.   I head back to the relative quiet of Collections knowing that even though I only spoke to a small portion of the staff, and not at any great length, this museum, along with its artifacts and specimens, is in excellent hands.