Ever wondered what it would be like to visit an amazing natural science museum in the Woodlands Mall?  Well here's your chance! On Tuesday, March 31, from 4 to 7 p.m., we are holding a FREE Educators' Open House at The Woodlands Xploration Station!!!
During the Open House, which – did I mention this? – is FREE to all educators, visitors will have the opportunity to view demonstrations of the Outreach Programswith Melissa Hudnall. There will be plenty of Museum Staff present to answer any questions you may have.  Chris Flis, one of our very own Paleontologists, will be on hand to discuss our newest Outreach Program, Earth Science on Wheels. Chris will also answer questions about our Whiskey Bridge Paleontology trips.  Educators will be given Information about field trips, staff development opportunities, and upcoming exhibitions at the Museum.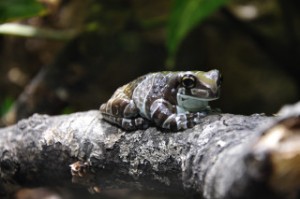 At the Houston Museum of Natural Scienceit is our goal to accommodate educators in any way possible.  With this in mind, we welcome educators' families at this particular event; we know that childcare can be difficult to find! As a further enticement, Chick-fil-A refreshments will be provided, so come hungry! 
If you are interested in coming, please let me know by sending RSVP's to ecrouch@hmns.org or (713) 639-4754.
Frogs, dinosaurs, insects, luminous minerals, and MORE await you at the Xploration Station!