Int he weeks leading up to the exhibit opening, most of the Collections staff at the Museum, not to mention all of the exhibits guys, were totally immersed in the installation of the new Genghis Khan exhibit. 
With the exception of Antarctica, the Collections and Exhibits staffs have worked with people from every continent on the globe.  Scandinavians, Israelis, Peruvians, Chinese, Ethiopians; the list goes on and on.  From each of these museum colleagues I've gotten a little window into their cultures.  So I was delighted to have the chance to learn a bit from our Mongolian guests as we worked on the installation of the Genghis Khan exhibit.
First off, let me 'fess up that my knowledge about Mongolian culture or language is pretty slight.  As a matter of fact, the language didn't sound anything like what I had expected.  To my ears it was quite soft sounding and impossible to pick up any particular word, although I sort of got my tongue around hello.  It's something like sah-no, or maybe it's not – I'm no linguist.  And, I couldn't possibly spell the entire names of the women from the Mongolian museums but they graciously allowed us to shorten their names to Tuule and Tuuvya while here.  Their male, English-speaking colleague with the exhibit who actually resides now in Washington, DC, was Ganna.  Nonetheless I bumbled on, the Mongolians were very patient and, thank goodness, a Mongolian couple living here in Houston aided in translation.  Here is some of what they shared with me about a few of the artifacts in the exhibit.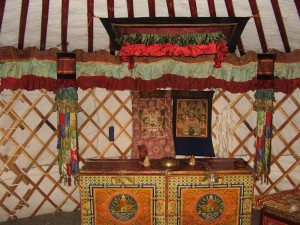 Near the beginning of the exhibit there's a replica of a Mongolian ger, or yurt.  In it are a variety of household items and common possessions.  I saw a woven basket and a hand-made rake, which didn't really register with me.  However I soon learned that these are handy items used to gather and carry dried animal dung which is used for fuel.  (And for what it's worth, because there's not an example of this in the exhibit, wet manure is used for building shelters for the animals.) 
Also in the ger is a wooden object that resembles an old-fashioned butter churn.  Its actual function is more of a mortar and pestle to "smash" tea leaves.  One of the young Mongolian women fondly remembered that her grandmother had one.  In the center along the ger's 'wall' (for lack of a better word) are two painted boxes.  These would have been used to store valuables, a nomadic version of a safe. 
On the floor of the ger is a board game made from animal bones which look like vertebrae although I didn't get the opportunity to look closely.  This game is played by both adults and children but mostly children and it can also be used to predict fortunes.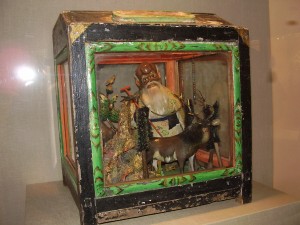 One of my favorite objects in the exhibit is glass encased box with a miniature nature scene.  The Mongolians had a hard time coming up with translatable words for it and finally decided on "family treasure."  We would probably call it a family heirloom. 
This box contains a tall figurine of a rotund elderly man with a long white beard and he is called The Old White Man.  He symbolizes wealth and longevity.  Also in a corner of the box is a depiction of the old Buddhist fable of the elephant, monkey, bird, and rabbit who worked together as friends to get fruit from a tree.  In the scene's foreground are a deer, bird, rock, tree, and bubbling spring who along with the Old White Man all symbolize good fortune.  Glass box scenes such as this are kept in the family, handed down from generation to generation, to bring longevity, prosperity, and good luck to the owners.  It's a lovely thing to pass on, don't you think?
Here in the West the story of Genghis Khan has been one of romanticized brutality.  This exhibit offers more of a balance through facts and historical objects.  And these explanations of their culture shared by our Mongolian colleagues enlighten us also.