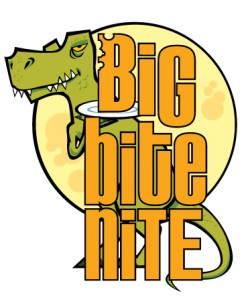 Have you ever dreamed of eating at many restaurants at once; perhaps taking a bite from Morton's Steakhouse seared fillet and then popping a chewy P.F. Chang's vegetableshrimp dumpling? I know. You're already eyeing that Kobe beef hot dog from the Lake House you've been dying to try… How would you like to take a big bite? That's right, Houston. BIG BITE NITE has arrived.
Join the Houston Museum of Natural Science and discover the culinary explorer inside as you taste the talents of some of Houston's most prestigious restaurants. Delve into the cultural traditions of our diverse city with dancers and musical entertainment. Explore the intricacies of cuisine from our spotlight country: China. Experience an epic (oh yes – EPIC) journey of world food as we highlight delicacies from across the globe in this lavish culinary affair.
You want restaurants? Here's a sneak peek:  17* at Alden Hotel; Arcodoro; Bedford Restaurant; Blue Nile Authentic Ethiopian Restaurant; The Capital Grille Restaurant; The Grove; Hungry's Cafe and Bistro; The Lake House; Maggie Rita's Tex-Mex; Magnolia Club at Magnolia Hotel; Monarch at Hotel ZaZa; Morton's, The Steakhouse; Nelore Brazilian Churascurria; P.F. Chang's China Bistro; Polo's Signature; Post Oak Grill; Qin Dynasty; Quattro at the Four Seasons; RA Sushi; Reggae Hut; Ruggles Green; Saffron Moroccan Cuisine; and many more!
BIG BITE NITE will take place on Thursday, April 30th, from 6 – 9pm at HMNS. 21 and up only. Buy your tickets today for only $35 – this event WILL sell out.