Spring-time is almost here and the butterflies will soon be fluttering all around town.  I have actually seen a lot already, but we do live in Texas, so that's not a surprise.  Since I work in an exotic butterfly house, I definitely have my favorite exotic butterflies, but I also have a few favorites that are here in Texas as well.  Many of you may be expecting me to write about the monarch, Danaus plexippus, but I thought I would write about some different, but still very common ones that we find around here in Houston.  If you are interested in monarchs, please check out Nancy's blog – all about monarch migration.
The Gulf Fritillary, Agraulis vanillae, is a butterfly that frequents Houston quite often.  Its caterpillars feed off of every single part of the passion vine plant, which make them poisonous and nasty-tasting to predators. 
A couple of summers ago, I had tons of these caterpillars on my passion vine plant.  The caterpillars have large spines along their body with an underlying bold purple, orange, and black coloration, serving to warn predators of their danger!  I'm sure many of you have seen this bright orange and black butterfly fluttering around nectar plants such as Lantana, Zinnia, Coneflowers, Butterfly Bush, and many others. 
One of the most distinct characteristics of the Gulf Fritillary is the spectacular silvery, almost mirror looking, spots on the underside of the wings.  The males and females look very similar, but the black stripes on upper side of the female's wings are thicker and more pronounced.  Although this butterfly is not here in the Butterfly Center very often, take advantage of its beauty outdoors right here in Houston.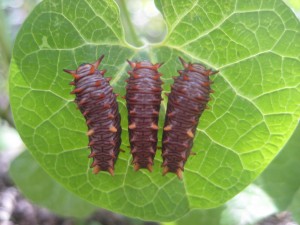 The goldrim butterfly, Battus polydamas, is a member of the swallowtail family (Papilionidae), but it does not have the typical tails that many of these butterflies have.  The name 'gold rim' comes from the golden-yellow crescent shaped markings on the upper edges of both the fore and hind wing.  Caterpillars of this species are gregarious (living together) in the early stages but become solitary when older.  The caterpillars are a dark reddish gray color with paired fleshy tubercles along the back of the body.  
I am very fond of these cute caterpillars and was fortunate enough to take this adorable picture in our butterfly garden right outside of the museum.  Adults are mainly associated with disturbed areas of the forest and can be seen visiting gardens throughout the city.  They are nectar feeders and especially like Lantana.  Like many swallowtails, this butterfly flutters constantly while feeding instead of stopping to rest.  This butterfly is fairly common in Florida and South Texas and will at times stray to Kentucky and Missouri. 
Once spring-time hits, I seem to see this next butterfly all the time!  As a native of heavily populated areas such as parks, yards, gardens, and road edges, the cloudless sulphur, Phoebis sennae, can be seen almost anywhere along the gulf coastal states. It is characterized by its pure bright yellow to greenish-yellow wings. The males use strong rapid flight to search for a receptive female. The eggs are laid singly on leaves of Cassia,which the caterpillars happily consume, and hide underneath, to rest. The pupae are oddly shaped, compressed from side to side with a greatly distended "chest and belly". They use a silken girdle to attach themselves to the leaf during pupation. These butterflies are harmless to plant life and are a welcome visitor to any garden.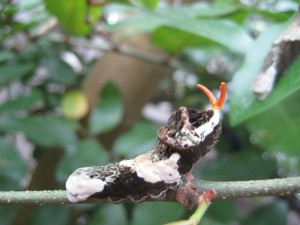 One of the largest butterflies that I see around town is the Giant Swallowtail, Papilio cresphontes.  This fantastic butterfly is native to large portions of North, Central, and South America. It very common in Houston and can be seen gracefully fluttering and sipping the sweet nectar of flowers such as Lantana, Azalea, and Honeysuckle.
Characterized by the striking diagonal yellow band across its forewing, and its long yellow-filled tails, this butterfly is a joy to see in one's garden! The larvae feed strictly on citrus plants and are commonly called "orange dogs." As a defense, they cleverly disguise themselves as bird droppings as they sit motionless during the day and feed at night. As with other swallowtails, these caterpillars' posses a bright reddish orange, y-shaped gland called an osmeterium, which contains a mixture of highly noxious chemicals that smell like rancid butter. This gland helps to protect the caterpillar from small predators such as ants and spiders. The pupal stage remains inconspicuous, resembling a piece of tree bark.
These four butterflies are only a few of the wonderful butterflies that live in Houston.  If you are more interested in butterflies you should check out Butterflies of Houston & Southeast Texasby John and Gloria Tveten.  It's a wonderful book and has amazing pictures.
Love Butterflies?
Bring them to your garden with scrumptious (to butterflies, anyway) host plants – available at our Spring Plant Sale April 4, 9 a.m. – 1 p.m. Stay tuned for more details!