The Houston Museum of Natural Science was founded in 1909 – meaning that the curators of the Houston Museum of Natural Science have been collecting and preserving natural and cultural treasures for a hundred years now.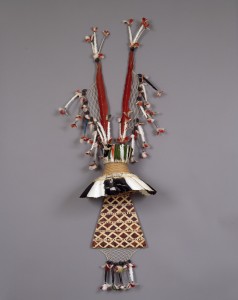 For this yearlong series, our current curators have chosen one hundred exceptional objects from the Museum's immense storehouse of specimens and artifacts—one for each year of our history. Check back here frequently to learn more about this diverse selection of behind-the-scenes curiosities—we will post the image and description of a new object every few days.
This description is from Dirk, the museum's curator of anthropology. He's chosen a selection of objects that represent human cultures throughout time and around the world, that we'll be sharing here – and on hmns.org – throughout the year.
Amazonian tribes have made some of the world's most amazing feather work ornaments. This headdress, belonging to the Palikur tribe, is symbolic of our growing world class collection of South American rainforest cultural artifacts.
Explore thousands of years of Native American history in the John P. McGovern Hall of the Americas, a permanent exhibition at the Houston Museum of Natural Science.