The Houston Museum of Natural Science was founded in 1909 – meaning that the curators of the Houston Museum of Natural Science have been collecting and preserving natural and cultural treasures for a hundred years now. For this yearlong series, our current curators have chosen one hundred exceptional objects from the Museum's immense storehouse of specimens and artifacts—one for each year of our history. Check back here frequently to learn more about this diverse selection of behind-the-scenes curiosities—we will post the image and description of a new object every few days.
This description is from Lisa Rebori, the Museum's Vice President of Collections. She's chosen a selection of objects that represent our Museum's history, and our collections of historical technologies, that we'll be sharing here – and on hmns.org – throughout the year.
No. 153, Conroe, May 8, 1936
By Eloise Reid Thompson
Watercolor on paper.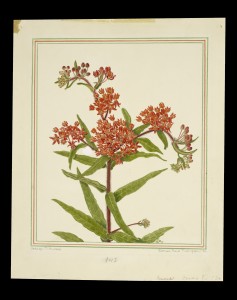 In 1930, Eloise Reid Thompson began painting wildflowers, mainly flowers of the American Southwest.  She started this project as she traveled with her husband Mr. Wallace C. Thompson, an exploration geologist.  A selection of her wildflower paintings featuring Texas plants was included in the 1936 Texas Centennial Exposition, a World's Fair held at Fair Park in Dallas. 
Mrs. Thompson would pick a sample of the flowering plant and draw and paint it for several days working at her kitchen table.  She collected the plant shown here in Conroe, Texas and immediately painted this picture. 
In 1964, 100 of the paintings were incorporated in to a book entitled "Wildflower Portraits" with selected paintings accompanied by botanical descriptions by Edna Wolf Miner, Ph.D.  Mrs. Thompson gave all of the original paintings in the book to the Museum in 1977.  In 2005 her daughter, Katrina Ladwig, and grand-daughter Laurel gave the Museum a collection of her watercolor and pencil wildflower studies.
The Orange Milkweed or Butterfly-weed (Asclepias tuberosa) shown here is a perennial herb with flowers that vary in color from orange-yellow to orange-red. It attracts many butterflies during June to late August, especially Great Spangled Fritillary.  It can be found growing wild in dry fields and along road sides and ditches.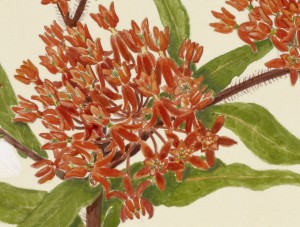 The Thompson Family has supported the Houston Museum of Natural Science through three generations:  Mr. Thompson served on the Board of Trustees in the early 1960's and as President of the Board from 1965-66.  Mrs. Thompson was an active member of the Museum's Guild leading school tours and fundraising for Museum programs.  Katrina followed in her mother's footsteps, also serving on the Museum's Guild. Laurel attended museum classes and worked at the Museum in the Astronomy Department throughout high school and college.  After graduation she joined the Museum Staff working in the Burke Baker Planetarium.
Check back soon for more of the 100 most compelling objects from the museum's collections – we'll be posting the series throughout 2009 as we celebrate a centennial of science in Houston.