The Houston Museum of Natural Science was founded in 1909 – meaning that the curators of the Houston Museum of Natural Science have been collecting and preserving natural and cultural treasures for a hundred years now. For this yearlong series, our current curators have chosen one hundred exceptional objects from the Museum's immense storehouse of specimens and artifacts—one for each year of our history. Check back here frequently to learn more about this diverse selection of behind-the-scenes curiosities—we will post the image and description of a new object every few days.
This description is from Tina, the museum's associate curator of malacology. She has chosen a selection of objects that represent the most fascinating shells and animals in the Museum's collections, that we'll be sharing here – and on hmns.org – throughout the year.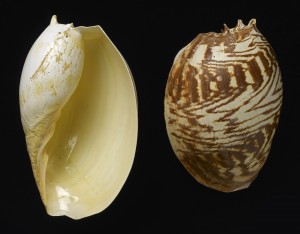 This very large species of the Volutidae Family can reach lengths in excess of 500 mm and is found along the northern coast of the Australian continent. There are also documented populations along the southern coast of New Guinea. 
These shells were used by native peoples to bail the water from their dugout canoes as they traveled and are therefore commonly referred to as "Bailer Shells."
The animals that construct and live in these large shells are a source of food for local peoples and can weigh from three to five pounds without their shells. They inhabit shallow areas in the littoral zone down to ten meters in depth. The females lay eggs in clusters with each newborn hatchling fully formed and ready to begin life. These babies are between 18 to 25 mm at hatching and begin the hunt for food almost immediately. Since they are predators in their environments, Melo amphora will even prey on their own species. 
M. amphora can produce "pearls" in much the same way that South Sea pearls and cultured pearls are produced.  They are extremely rare and tales of fabulous sets of them have been written about. However, very few have been documented and few are in public collections such as Museums. 
Learn more! Dive into the Malacology Hall, a permanent exhibition at the Houston Museum of Natural Science.