Perhaps you've heard HMNS is celebrating its centennial this year?  Well, ok, we've been mentioning it a LOT!  After all, it's a pretty big deal and it's quite a bit of history to cover.  So throughout this year you'll learn about all the major highlights of the museum's past.  But sometimes, there might be quirky little bits that will sneak in, courtesy of me.
One of the many fun parts of my job as Associate Registrar is that I have easy access to the museum's history files.  Usually I dig into them to research an object or specimen from the collection or occasionally a long-ago donor.  Nearly always, I come across some odd fact I didn't know or realize about the museum or the city of Houston.  Since I grew up here, I find it all interesting.  But I've also been at HMNS such a long time that sometimes my personal memories prompt research into the files.
All of the HMNS staff is very aware of the museum's centennial year so it's not surprising that a lot of us have been doing a stroll down memory lane in regards to this place.  I don't have any particular fondness or nostalgia towards miniature dollhouses, but for some reason I've been remembering an exhibit from my first year at HMNS.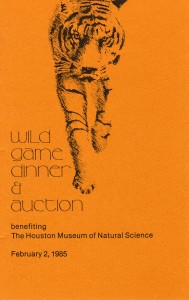 Pamphlet cover for
the dinner and auction
From what I've been able to dig up in the archives during the early to mid-1980s the HMNS Guild, along with the Houston Area Miniaturists Society, sponsored brief exhibits, lasting about three weeks in the Brown Hall, of miniature dollhouses and miniaturist scenes.  There was a small fee for the exhibit and the funds went to the Guild.  (A portion also went to the Miniaturist Society.) 
I know, you're thinking HUH?  But these exhibits were quite popular and brought in thousands of visitors during their brief time on view.  The scenes ran the gamut from historical to fantasy; hospitals and farmhouses to Santa's workshop. 
In 1984 one "room box" was a depiction of Prince William's nursery.  So popular were these miniatures that the Guild had one in the live auction at the 1985 Wild Game Dinner. As it was described in the program:
"A Miniature Mansion: The two-story plus attic, electrically wired, Williamsburg Colonial dollhouse is guaranteed to enchant adult and child alike.  Each room is lovingly and individually furnished by creative Guild members." The winning bid was $3200.00 and was written about as the first item in Betty Ewing's society column in the Houston Chronicle.  (For you youngsters, 1985 was an economically tough time for Houston, so that winning bid was a pretty good sum for a dollhouse.)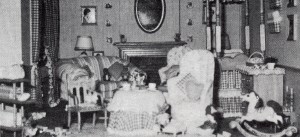 Dollhouse of Prince William's nursery
My hazy memory of a dollhouse exhibit is from 1987 – I'm fairly certain it was the last one.  I can't find anything beyond that year in the archives and I don't remember another one.  Alas, I also can't find any good photos – just a few black and white news clippings – although there is a mention of Channel 13 doing an on-air story.  So this was just one of those fleeting events that ran for a few years, a miniature moment in the museum's century-long history.