Scenario 1:
You: Oh man, Body Worlds is closing this weekend and we haven't gone to see it yet!
Other (spouse, friend, imaginary friend, sworn enemy, etc.): We need to see it before it closes!
You: 1. But I can't. I am working today.
        2. Its going to be too crowded.
Other: Don't worry, its open for 24 hours straight this weekend. We can go at anytime, and we can avoid the lines by purchasing tickets online!
Scenario 2:
You: Its 4 a.m. and I am so bored. Nothing is open. I don't want to sleep.
Other: Lets go check out Body Worlds! Its open all weekend.
You: Now? It's 4 a.m.!
Other: Yes, now, you fool! Let's go!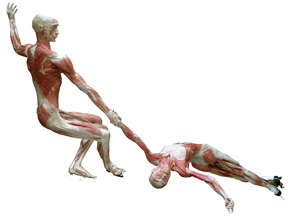 So – these scenarios may or may not happen to you exactly as rendered. But, the fact remains – if you haven't seen BODY WORLDS 2 & The Brain – Our Three Pound Gem – this weekend is your absolute last chance! Luckily, the exhibition will remain open around the clock during its final weekend in Houston. You're only available at 2:15 a.m.? No problem. Tickets are available from 9 a.m. on Friday, Feb. 20 through 9 p.m. on Sunday, Feb. 22.
BODY WORLDS 2 & The Brain – Our Three Pound Gem features more than 200 real human body specimens, including more than 20 whole bodies; healthy and unhealthy organs; and body parts and slices, all preserved through a remarkable process called Plastination – a method for extracting bodily fluids and soluble fat from specimens, and replacing them, through vacuum forced impregnation, with reactive resins and polymers. As a result of this process, visitors to BODY WORLDS will see inside the human body, learn how it works and how it can be affected by disease and lifestyle choices.