>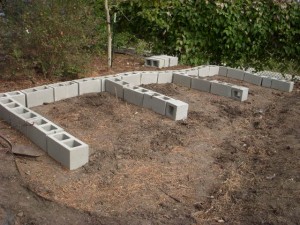 Building a compost heap
Every week I volunteer at a local elementary school in the arboretum and gardens on the schoolgrounds. The PTA environmental chair and I recently turned an area into a vegetable garden and built a large compost bin. We've told the teachers about what we're doing, and some of them have brought their classes out to help us plant.
The kids are enthusiastic diggers and rakers; we've had to buy more kid-sized spades and rakes to prevent struggles to "have my turn." They love to find june bug grubs (bad for baby plants) and earthworms (good for the soil).
They are eager to start the compost pile and feel how warm it gets as it decomposes. Most of them have never planted seeds before, and are amazed to learn what a baby radish or a seedling broccoli plant looks like. This week the sugar snap peas are getting ripe, and I worry that there will not be enough pods to go around to the class that planted them – and I know everyone is going to want to eat one!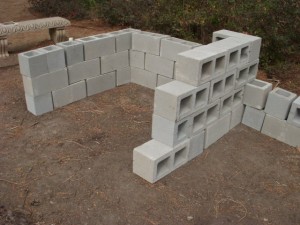 Laying out the compost bins
Helping the kids to plant a garden takes me back many years. I fondly remember helping my parents to tend our vegetable garden in Calgary's short growing season (no tomatoes there!). My father and I would often go out with a flashlight after dark to pick the slugs off the beans and lettuce, dropping them into a can of salty water. The few ears of corn we got each year would be relished as a special treat, cooked and eaten only minutes after they were picked. Besides harvesting our garden crops, we would also go out looking for wild june berries (called Saskatoons in Canada), tiny wild strawberries (so flavorful), or crabapples and chokecherries that my mother rendered into jelly or syrup.
I was very lucky to grow up when and where I did. But surely all kids should have a chance to learn how plants grow and what bugs live in their backyard or the overgrown area behind their fence. Things are different today – kids are busier, more sheltered, and many of their parents are uncomfortable in the outdoors. These days many people turn their gardening over to a landscaping crew, and their kids never work out in the yard (in contrast, us kids had to mow and edge our huge lawn all summer, and rake up all the leaves in the fall – for no pay!).
Today people grow up so distant from nature that it no longer surprises me to meet a grown woman (like the garden club member who visited recently) who hadn't the faintest idea that butterflies come from caterpillars.
Some of you may have heard about Last Child in the Woods, a book by Richard Loew that has gotten a lot of attention over the last few years. Loew coined the term "Nature deficit disorder" and convincingly argues that many people today suffer from it, to the detriment of themselves and the world.
I recommend the book, and most of all, I recommend sending your kids to play and work outdoors (if possible, on their own – or if not, with you to guide them).