A few weekends ago, I took a quick trip outside of New Braunfels and visited the Natural Bridge Caverns, a living, growing cave system in the middle of Texas.  Our very knowledgeable tour guide took us underground and showed us just what amazing things can happen under our feet.  So…let's all learn about what grows in a cave!!!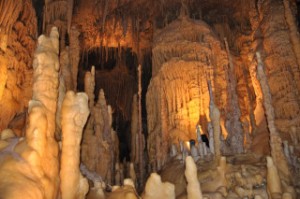 Cave formations, or speleothems, come in a wide variety of shapes-all dependent upon how they are formed.  The predominating formations in the Natural Bridge Caverns are flowstoneand dripstone. 
Most of us are familiar with dripstone in the forms of stalactites and stalagmites.  These two terms are very similar, and it can be hard to remember which one comes from the top of the cave, and which one grows up from the floor.  Here's an easy way: Stalactites hold on tight to the ceiling, while stalagmites might one day reach it! 
Other kinds of dripstones in the cave are columns, helictites, and soda straws.  (Tip-NEVER touch anything in the caves because the oils and acids on our skin repel water, and thereby kill the cave formation!  Don't be a cave-killer.)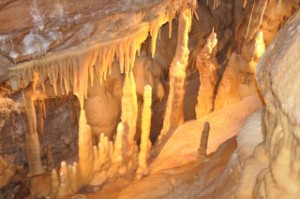 My favorite example of flowstone in the caves was a formation called the Diamond River.  Most times, moving water deposits small amounts of the minerals it dissolved on its trip down through rock layers.  However, if the water perhaps is moving slowly, it will deposit more of its mineral wealth; the latter is what makes the Diamond River so sparkly!
My second favorite formation is a kind of flowstone.  When deposits flow into thin sheets, it is sometimes called a Cave Curtain, or Cave Drapery.  When a cave curtain has various light and dark layers…it is called Cave Bacon!  (It is so named because of its resemblance to its pork-y counterpart.)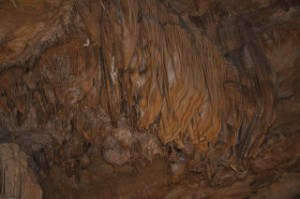 Cave Bacon!
On a related note, the temperature in the caverns is a seemingly-lovely 70 degrees. HOWEVER, the relative humidity hovers around 99%-making it feel closer to a stuffy 80 degrees.  This level of humidity has an interesting side effect…on the guano (bat droppings).  The bats that deposited the guano lived in the caves QUITE some time ago, so there is no smell.  BUT the moisture in the caves keeps the guano in the same condition is was when it came out of the bats over a thousand years ago, i.e. it never dries out.  In some spots, it is even up to five foot thick!!!  So watch where you step…
 
It is amazing to see the things that Mother Nature can produce when left to her own devices.  If you have a hearty hankering for more naturally-formed goodies, you should come on down to the Cullen Hall of Gems and Minerals and see how beautiful geology can be!