"Bugs on Wheels" is the ever-so-popular outreach program that sweeps Erin and me away from the office on many days.  Our very first program was on Feb. 13, 2006 and needless to say, it was a HIT!  If you have ever wondered what goes on at a "Bugs on Wheels," wonder no more because you are about to go on a trip with us right now.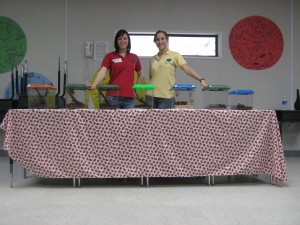 On a typical morning, Erin and I get to the office around 7:00 or 7:30.  We have to take care of our other jobs before we can hit the road.  Erin sorts through the insect zoo while I release butterflies. 
Next, we have to get all the critters ready to go.  All of the bugs that we take with us live in the containment room, so we do not have to take any away from the beautiful displays in the entomology hall.  Everyone gets loaded up in their critter carriers and we stack them all in a large Rubbermaid container with wheels. 
Then we are out to my car and on the road.  We have traveled as far away as Crosby and as close as just around the corner.  Set up is really easy, so we typically get to a school 10-15 minutes early.  Normally, we have to sign in at the front office where we almost always get bombarded with students and teachers asking "What is that??"  We prefer to set up in a classroom away from others, but there have been times when we had to fight the noisy crowds in a library or a cafeteria. 
Typically we do 30 minute presentations, especially if the students are younger than 3rd grade.  The older kids tend to sit still longer, allowing us to gab away for 45 minutes to an hour.  Once the kids enter the class, the first challenge is to sit them all in nice straight rows.  This part is hard for kids of all ages because they are distracted by the bugs of course! 
Erin and I take turns introducing ourselves to each class.  We tell them that we are from the Houston Museum of Natural Science and that we work in the Cockrell Butterfly Center.  We used to ask if anyone has been to HMNS, but we stopped doing that because every kid wants to tell a story of their visit here. 
We always like to ask the kids questions about insects before we begin; stuff like: How many legs? (6) How many body parts? (3: head, thorax, abdomen) What do they use to smell? (antennae) What kind of skeleton do they have? (exoskeleton)  Do they have wings? (some do) 
After this introduction, Erin and I turn almost invisible because the bugs totally steal the show! 
First, we talk about all of the insects: hissing cockroaches, 3 walking sticks, deer – horned stag beetle, and the giant long – legged katydid.  I have to say the most impressive is the katydid which the kids really love.  We bring up important facts about each bug and ask lots of questions to the audience.  Things like camouflage, mimicry, environment, adaptations, and diet are among some of the things we like to talk about. 
Next, we discuss arachnids and compare and contrast them with insects.  The two arachnids we show the kids are the whiptail scorpion, aka vinegaroon, and Rosie, our rose-hair tarantula.  This section gives us the opportunity to clear up some misconceptions about tarantulas.  Most people think they are soooooo venomous and cannot believe we actually hold one. 
Lastly, we pull out the giant African millipede and have them guess what it is.  Every now and then we will get a correct guess, but the majority of the guesses are: caterpillar, snake, worm, snail, rollie pollie, and centipede.  We actually have a preserved centipede that we can compare the millipede to and show the differences. 
The best part about our presentation is that every kid, if they want to, can touch all of the bugs with the exception of the vinegaroon and the stag beetle, who don't like to be touched.
Once we are all finished, we open the floor up to questions and eventually move on to the next group!  Some days we do six, 30-minute presentations and others we do three, 1-hour presentations.
For us, this program is very rewarding.  One of the best things is when a kid says "YUCK" when they first see the bug, but after we persuade them to touch it they think it's cute.  Also, helping kids understand that bugs aren't so bad and many of the big and scary ones are just trying to protect themselves from predators and that they don't really want to hurt us. 
The most priceless moment is the initial excitement they get when they first see each bug – and the escalated joy when they find out they can actually touch the bug!
For all you parents and teachers out there, I have great news!  Our Bugs on Wheels program has expanded to three different and unique programs. 
The program I just explained is now considered "Amazing Arthropods."  One of our new programs, "Butterflies and Moths," introduces the amazing cycle of metamorphosis and shows how butterflies and moths differ from each other and from other insects.  The other program, "Plants and Pollination," uses a giant flower model, puppets, a bee hive, and real fruits and vegetables to demonstrate the importance of pollination to the plant kingdom and especially to the foods we eat. 
If you are interested in our programs, please feel free to leave a comment here, or contact us at bow@hmns.org.