The Houston Museum of Natural Science was founded in 1909 – meaning that the curators of the Houston Museum of Natural Science have been collecting and preserving natural and cultural treasures for a hundred years now. For this yearlong series, our current curators have chosen one hundred exceptional objects from the Museum's immense storehouse of specimens and artifacts—one for each year of our history. Check back here frequently to learn more about this diverse selection of behind-the-scenes curiosities—we will post the image and description of a new object every few days.
This description is from Lisa Rebori, the museum's Vice President of Collections. She's chosen a selection of objects that represent our Museum's history, and our collections of historical technologies, that we'll be sharing here – and on hmns.org – throughout the year.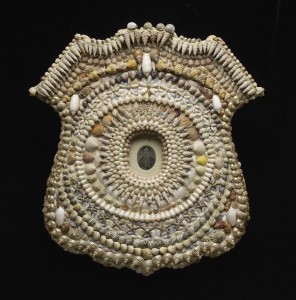 Ca. 1850 – 1900
HMNS 1991.1085.1
This antique shell mosaic was a gift from Mr. and Mrs. J.R. Preston.
During the mid 19th century, sailors to the West Indies often returned from their long voyages with mosaic shell boxes for their loved ones. Messages of affection spelled out in shells were included at the center of the designs, surrounded by additional colorful shells arranged in geometric patterns and compartments.
These shell mosaics were commonly fitted into octagonal hinged boxes with glass covers on each half and were known as 'Sailor's Valentines.'
Although the shell mosaic featured here is not specifically a Sailor's Valentine, it dates to the same era. The photograph at the center is a hand-tinted ambrotype of an unidentified woman. This shell mosaic frame is thought to represent a fraternal order or family crest for the recipient. All the shells in this antique frame are from the West Indies which helps to date the mosaic.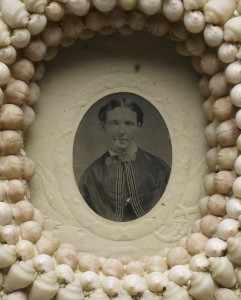 Check back soon for more of the 100 most compelling objects from the museum's collections – we'll be posting the series throughout 2009 as we celebrate a centennial of science in Houston.