The Houston Museum of Natural Science was founded in 1909 – meaning that the curators of the Houston Museum of Natural Science have been collecting and preserving natural and cultural treasures for a hundred years now. For this yearlong series, our current curators have chosen one hundred exceptional objects from the Museum's immense storehouse of specimens and artifacts—one for each year of our history. Check back here frequently to learn more about this diverse selection of behind-the-scenes curiosities—we will post the image and description of a new object every few days.
This description is from Joel, the Museum's President and curator of Gems and Minerals. He's chosen spectacular objects from the Museum's mineralogy collection, which includes some of the most rare and fascinating mineral specimens in the world, that we'll be sharing here – and on hmns.org – throughout the year.
Sweet Home Mine near Alma, Colorado.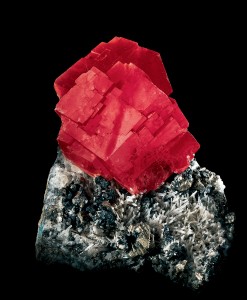 The superb 10-cm rhodochrosite crystal on matrix pictured here, known as "The Alma Queen," is among the most famous specimens in all of mineralogy. It is the best specimen recovered from a pocket found in 1965 by John Soules and Warren Good. The exceptionally large, rich red-colored crystals perched on a crystallized matrix of quartz and tetrahedrite combine to create a level of sculptural composition and aesthetic beauty that make this one of the world's truly great mineral specimens. Since its discovery, it has attained legendary status as a "Mona Lisa" of the mineral world – it is widely regarded as the finest example of rhodochrosite known – and among knowledgeable collectors and connoisseurs, it is considered to be the finest mineral specimen of any kind ever found.
Marvel at the world's most spectacular collection of natural mineral crystals in the Cullen Hall of Gems and Minerals at the Houston Museum of Natural Science.
You can see larger and more detailed images of this rare specimen – as well as the others we've posted so far this year – in the photo gallery on hmns.org.