The Houston Museum of Natural Science was founded in 1909 – meaning that the curators of the Houston Museum of Natural Science have been collecting and preserving natural and cultural treasures for a hundred years now. For this yearlong series, our current curators have chosen one hundred exceptional objects from the Museum's immense storehouse of specimens and artifacts—one for each year of our history. Check back here frequently to learn more about this diverse selection of behind-the-scenes curiosities—we will post the image and description of a new object every few days.
This description is from Nancy, the museum's director of the Cockrell Butterfly Center and curator of entomology. She's chosen a selection of objects that represent the rarest and most interesting insects in the Museum's collections, that we'll be sharing here – and on hmns.org – throughout the year.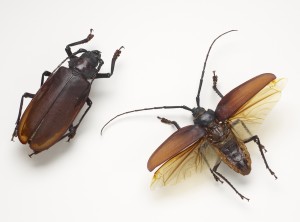 The name says it all:  the Titans were a race of giants in Greek mythology, while giganteus is Latin for giant.  This monster from the rainforests of the Amazon basin in South America is the largest beetle in the world, at least in terms of overall size (the African Goliath beetle, a scarab, is heavier).  The giant longhorn is a member of the Cerambycidae or long-horned beetle family, which includes over 20,000 species worldwide.  The family's common name describes the very long antennae characteristic of most cerambycids – in some species over twice as long as the body.  Male cerambycids typically have longer antennae than females of the same species.  Shown here are a male (wings spread, longer antennae relative to body size) and female (larger, with somewhat shorter antennae).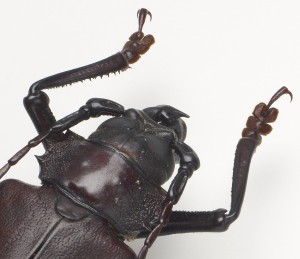 Learn more about beetles and their relatives in a visit to the Brown Hall of Entomology, a part of the Cockrell Butterfly Center – a living, walk-through rainforest at the Houston Museum of Natural Science.
You can see more images of this fascinating artifact – as well as the others we've posted so far this year – in the photo gallery on hmns.org.