At a dig site in North Texas, the Houston Museum of Natural Science is investigating the animals that would have died off when this first mass extinction event occurred. Recently, a production crew from the History Channel came along on-site – and their footage of Dr. Bakker and the Museum's team airs tonight at 8 p.m. as part of a two hour special called (aptly) First Apocalypse.UPDATE: In case you missed it, the special re-airs locally Saturday, Jan. 10 at 9 p.m. and a few hours later, Sunday morning at 1 a.m. (Check your local listings.)
In this post, Dr. Bakker explores several extinction events, including the first, Permian extinction you'll see featured on the History Channel tonight.
ICE AGE DISASTER: MAMMOTHS & SABER-TOOTHS.
In the early 1800's, paleontology astounded the world when fossils documented the phenomenon of mass extinctions, times when the whole menagerie of big terrestrial critters went extinct.
The first mass die-off that was discovered killed the gigantic mammoths, mastodons, ground sloths, saber-tooth tigers and dozens of other large mammals. This extinction event occurred during the Ice Age. The Ice Age Event didn't hit small species – if you were a vole, mole, rat, bat or chipmunk, your species had a good chance of surviving.
Today, we know that the extinction took place between 2 million and ten thousand years ago.
DINO-DIE OFF – 65 MILLION YEARS AGO.
By the 1830s, a second giant extinction event was revealed. All the huge Dinosauria disappeared at the end of the Age of Reptiles. Small creatures – birds and salamanders, lizards and frogs, snakes and furry mammals – survived in great numbers.
DINO-DIE-OFF BOUNCE – OPPORTUNITIES FOR FURBALLS.
Mass extinctions weren't all negative. Dino-die-offs kick-started evolution in the survivors. From the little furry mammals who survived came a wonderful new evolutionary wave of big predators and herbivores – horses, rhinos, hippos, water buffalo, elephants, bears, tigers, cheetahs and wolves. This Darwinian bounce happened every time there was a catastrophic extinction.
THE LATE PERMIAN DISASTER – 250 MILLION YEARS AGO.
Digging in oceanic strata during the mid-1800s showed yet another catastrophe, when the Permian Period ended. Most common species of marine life disappeared, including trilobites, corals, and many species of shellfish.
Die-offs struck the land too – most of the big land reptiles, who filled the role of Top Predator and Top Herbivore, died out. Many small species persisted and from these humble survivors came the next wave of big land animals, including the dinosaurs.
WHAT KILLED THE LAND GIANTS?
Many theories sprung up to explain the great die-offs: the agent of extinction was identified as:
sudden increases in earth temperatures, or
sudden decreases in temperature, or
changes in atmospheric gases, or
changes in humidity, or
abrupt rise of mountains, or
abrupt disappearance of mountains, or
draining away of shallow seas, or
increase in volcanic eruptions, or
sudden impacts of meteorites, or
invasion of foreign species from one continent to another.
TEXAS RED BEDS – EXTINCTION # 1, 285 MILLION YEARS AGO.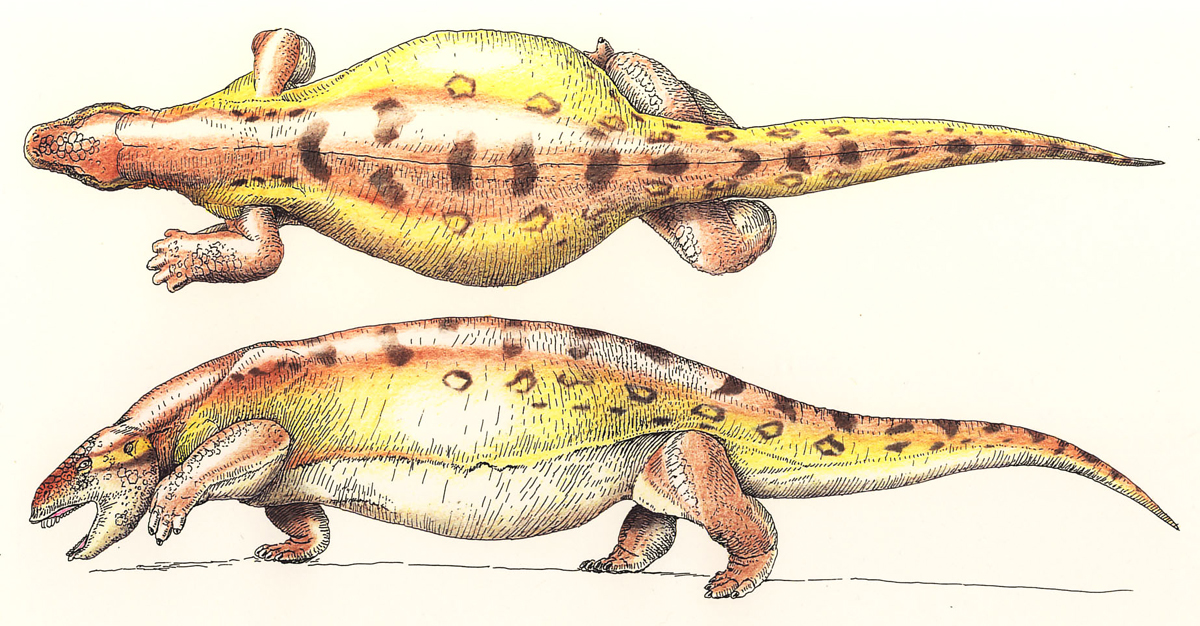 Diadectes, side and top view. (c) Dr. Robert T. Bakker
To sort through all the possible solutions, it would help to find the very first case when large land animals evolved and then died-off. North Central Texas preserves this earliest apocalypse in the red-stained rocks laid down in the Early Permian. This extinction was long before the event that struck at the Late Permian.
Beginning in 1877, Texas excavations showed how the earliest large land herbivores evolved. These plant-eating pioneers were wide-bodied, low-slung reptiles known as "Cross-Biters," Diadectes. Diadectes and its kin were the first large land animals to acquire the wide molars and big guts needed to digest leaves and branches from terrestrial bushes and trees.
The members of the Diadectes Family were the commonest land herbivore for fifteen million years…..and then, suddenly, they went extinct. The pattern at this first die-off matches what we've seen in the other land extinctions – small species were far more successful in living through the event.
RED BEDS BOUNCE – EXTINCTION #1 OPENS OPPORTUNITIES FOR FAUNA # 2 – THE TEXAS WIDE-BODIES.
This first die-off opened niches for the survivors. New and spectacular large herbivores evolved from small ancestors. In the Texas Red Beds, we find super-wide-bodied caseid reptiles who reached weights of more than a half ton.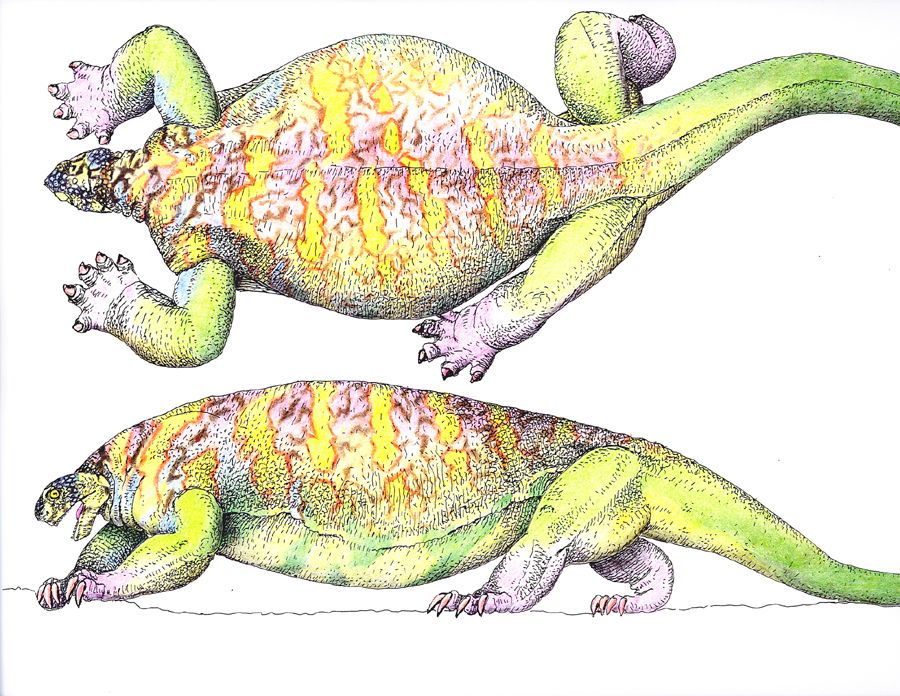 The wide-bodied caseid reptile. (c) Dr. Robert T. Bakker
EXTINCTION #2 OPENS OPPORTUNITIES FOR FAUNA #3 – THE DOME-HEADS.
The wide-bodied caseids flourished for millions of years in the Middle Permian – then, the second extinction struck. Caseids disappeared. Evolving into the gap were advanced mammal-like reptiles with thick bone foreheads. There were both giant carnivores (anteosaurs) and giant herbivores (keratocephs).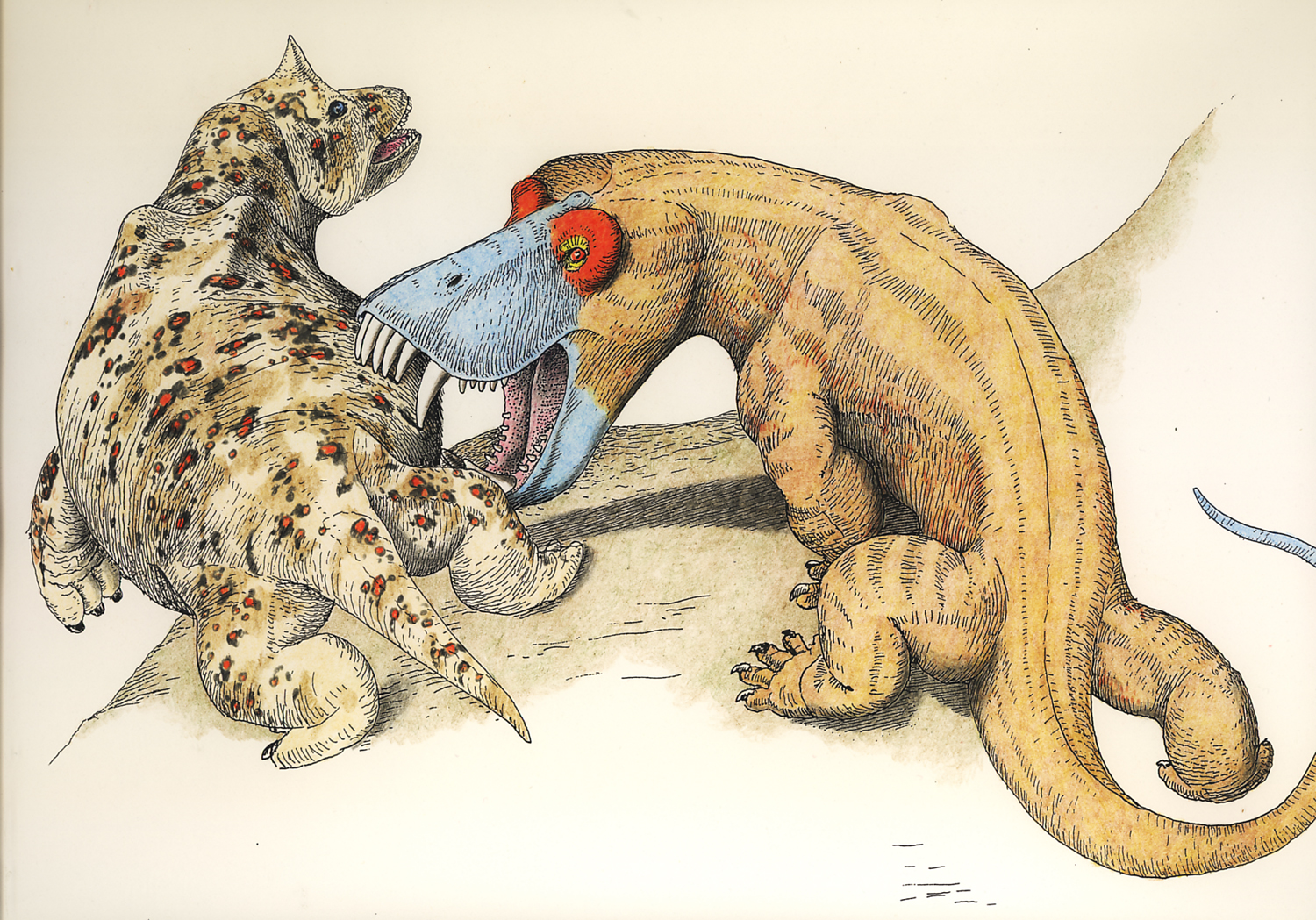 Keratocephus, having a bit of trouble with anteosaurus. (c) Dr. Robert T. Bakker
The Houston Museum continues digging in north Texas, where the Red Beds record the earliest waves of large land animal evolution and the first extinction events. Many mysteries remain. But one pattern seems confirmed:
Mass die-offs on land are targeted like smart bombs. If you're a big herbivore or big carnivore, you have the highest probability of going extinct.
Learn more about the First Apocalypse, and see Dr. Bakker and the Museum's paleontology team in action, tonight at 8 p.m. on The History Channel.